Marjorie Eder, fresh off of surgery last month on her left hand, is keeping a close eye on budget talks involving Douglas County Visiting Nurses Assn.
The 67-year-old Eudora resident is a longtime Visiting Nurses client. That's what rheumatoid arthritis and its resulting surgeries -- three on her left knee, two on her right, and replacements of both hips, both shoulders and both elbows -- will do.
"I've had everything replaced, I think, that there is to replace," she said.
But if a continuing budget crisis cuts much deeper into the Visiting Nurses, Eder may just have to find a replacement for the occupational therapists, nurses and health aides that drop by her home several times a week to administer shots, help her shower and stay active enough to walk with a cane.
Eder is getting help as part of the Visiting Nurses Acute Care program, which hasn't been touched by cuts. But she won't be able to go back on the home-care program that she's relied on in the past unless help comes soon.
"I've been worried, but hopefully it won't come to that," she said, as she waited for her nurse to visit Tuesday afternoon. "I would hate to think of that day coming, but I'm fortunate I've had them. They've been very helpful."

Red ink runs rampant
But even after freezing its client list, cutting salaries and ceasing retirement contributions to employees, the Douglas County Visiting Nurses Assn. is running $240,000 in the red.
And Douglas County commissioners say they aren't about to bail out the 35-year-old agency that last year called on 950 county residents, providing more than 41,000 in-home visits for medical and other health-related issues.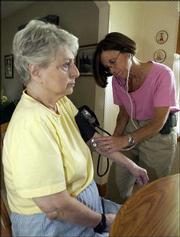 "I see a train wreck, and I don't want to be a part of it," Commissioner Bob Johnson said.
The county this year supported Visiting Nurses to the tune of $340,621. For 2005, County Administrator Craig Weinaug, following commissioners' directions to reduce the commitment after a bailout of the agency last summer, recommended earmarking $290,621 to Visiting Nurses.
Commissioners criticized Visiting Nurses leaders during budget hearings this week, as officials sought the extra $80,000 to help stop the agency's financial bleeding.
The association's request comes as more than a dozen agencies, departments and programs are seeking extra money out of the county's proposed $47.5 million operating budget for next year.
The association's plea qualifies among the most dire, and also among the least likely to succeed. And Jan Jenkins knows it.
"They were pretty adamant: They don't think we should ask for additional funding," said Jenkins, Visiting Nurses executive director, after making her case at the county courthouse. "And I understand what they're saying. We'll just have to make the services that we provide fit within the payments that we're getting."
Mounting debt
The agency's financial straits already have prompted Visiting Nurses to stop accepting new clients for its Home Care Support Program, which helps people take medicine, bathe and otherwise live comfortably in their own homes, Jenkins said.
More than 84 applicants have been turned away from the program since October, Jenkins said, when the agency cut managerial salaries, eliminated employee pay raises, stopped making contributions to employee retirement funds and slashed overtime pay.
Even after three months of savings, the agency ended 2003 more than $590,000 in debt.
Cuts in Medicaid payments and lengthening waiting lists for Medicaid eligibility have heightened demands on the Home Care Support Program, which is financed by the county to care for people ineligible to receive federal or state assistance.
At this time last year, commissioners had accepted Jenkins' plea for an extra $73,000 to offset Medicaid cuts. Commissioners actually agreed to bump up the extra financing to $100,000 for 2004, while cautioning Jenkins at the time that the extra cushion would be reduced to $50,000 for 2005.
But this week, Jenkins was back at the podium -- this time asking for an additional $80,000 from county taxpayers, a request that rankled commissioners.
Jenkins knows the agency will have to make more cuts to make ends meet this year, even if the county reverses course and grants Visiting Nurses the extra $80,000.
Future support?
"We're going to have to limit the number of people we provide services to," Jenkins said. "There's no more money available."
Charles Jones, commission chairman, emphasized that he and his fellow commissioners valued the services provided by the agency. He even invited Jenkins to come back with a proposal later this year, once the agency had put together a viable plan for returning to financial stability.
"It's been a tradition for us that we will not bail people out when we're not sure that the (financial) hemorrhaging has stopped," Jones said. "To get any additional money, I think you need to give us confidence that you know what the game plan is."
Commissioners continue budget hearings at 8:30 a.m. today at the courthouse, 1100 Mass. They intend to make formal recommendations about budget requests Tuesday.
Copyright 2018 The Lawrence Journal-World. All rights reserved. This material may not be published, broadcast, rewritten or redistributed. We strive to uphold our values for every story published.