Minneapolis — Mark Buehrle opened an important series for the Chicago White Sox by quickly disposing of the Minnesota Twins.
And he had to work fast, because his arm felt like it was on fire.
Buehrle pitched eight sharp innings in a 6-2 victory Tuesday night, leading the White Sox past the Twins into first place in the AL Central.
He threw 108 pitches, 72 for strikes, in a game that lasted only 2 hours, 4 minutes. Buehrle normally uses an ointment to loosen up his shoulder before a start, but a team trainer talked him into trying a new one that proved to be more potent than he expected.
"It felt like I had second-degree burns on my arm," Buehrle said. "I've used some hot stuff before, but not this hot."
Whatever works.
Bouncing back from two bad starts that bloated his earned-run average by nearly a run, Buehrle (8-2) gave up eight hits and two runs while improving to 13-4 against the Twins in 18 career starts. That's his most wins against any opponent.
"Today was probably the best I've felt as long as I can remember," Buehrle said. "After the first couple innings, I didn't think I'd give up a hit."
Jose Valentin hit a solo home run, and Juan Uribe added a two-run shot for the White Sox (40-33), who have won four of five and moved one percentage point ahead of Minnesota (41-34) into first in the Central.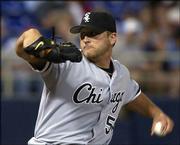 Corey Koskie homered for the Twins, who lost their third straight and swung at several first pitches from Buehrle -- grounding out 14 times against the left-hander.
"He tried to play with the count," Minnesota's Luis Rivas said. "He doesn't give you a pitch to hit."
By running his fastball inside against right-handers, Buehrle effectively set up his changeup and sinker on the outside of the plate.
"He's a very smart pitcher," Twins center fielder Torii Hunter said.
Buehrle, who struck out six without a walk, fanned three of the first six batters to reach 500 strikeouts for his career. He lowered his ERA from 4.49 to 4.33.
After acquiring Freddy Garcia from Seattle on Sunday, Chicago is brimming with confidence.
"We can't let down," Buehrle said. "We've got two more to go, and we hope to get a sweep if not win the series."
Mariners 4, Rangers 3
Seattle -- Rich Aurilia hit a two-run homer in the sixth inning, and Joel Pineiro won his third straight decision, leading Seattle over Texas. The last-place Mariners broke a seven-game losing streak against the Rangers, who lost for only second time in 11 games. Both defeats have been by one run.
Trailing 3-1, the Mariners went ahead with three runs in the sixth. Jolbert Cabrera doubled, went to third on Edgar Martinez's single and scored on Bret Boone's sacrifice fly. Then Aurilia homered 409 feet to left.
Athletics 5, Angels 4
Oakland, Calif. -- Bobby Crosby hit a go-ahead two-run single in the seventh to help Mark Mulder win his eighth straight decision. Crosby, a rookie batting .327 with seven homers and 20 RBIs over his last 44 games, singled to the corner in left against Francisco Rodriguez to save Mulder (10-2), whose current win streak is a career-best. Octavio Dotel pitched a perfect ninth for his first save in two opportunities with his new team.
Yankees 11, Red Sox 3
New York -- Gary Sheffield hit a three-run homer, Tony Clark hit a rare drive into the center-field bleachers, and Javier Vazquez beat Boston for the first time in his career. With Vice President Dick Cheney looking on and a sellout crowd of 55,231 yelling from the first pitch, there was a postseason atmosphere at Yankee Stadium. Johnny Damon hit a pair of solo homers, and David Ortiz hit his 20th homer for Boston.
Blue Jays 4, Devil Rays 0
St. Petersburg, Fla. -- Ted Lilly won his fifth straight road decision, and Eric Hinske stole home, leading Toronto past Tampa Bay. Lilly (7-4) didn't allow a run over six-plus innings in improving to 5-0 over his last seven starts away from SkyDome. He gave up three hits, four walks and struck out three.
Vinnie Chulk pitched two hitless innings, and Jason Frasor struck out the side in the ninth to complete the three-hitter.
Tigers 9, Indians 7, 11 innings
Detroit -- Dmitri Young's two-run homer in the 11th inning gave Detroit its season-high fifth straight victory. It was Detroit's third straight game-ending home run. Eric Munson's solo shot in the ninth beat Arizona on Saturday, and Carlos Pena's grand slam in the ninth led the Tigers past the Diamondbacks the next day.
Copyright 2018 The Associated Press. All rights reserved. This material may not be published, broadcast, rewritten or redistributed. We strive to uphold our values for every story published.