Chicago — Power and poise helped the White Sox get even with the Cubs.
Paul Konerko, Joe Crede and Jose Valentin homered, rookie starter Felix Diaz earned his first major-league win and new closer Shingo Takatsu lived up to his nickname "Mr. Zero."
It added up to a 6-3 victory Saturday that knotted the spirited crosstown interleague series at one game apiece.
"I think we were a little more calm today as a team," Konerko said after his second three-run homer in as many games. "We were kind of geeked up yesterday. I think we had a better approach today.
"I love these games. They're fun."
If you win, they are. And after capturing the series opener 7-4 Friday, the Cubs couldn't overcome the wildness of starter Carlos Zambrano, who surrendered a season-high five walks and eight hits in six innings.
Konerko and Crede both homered in a five-run third off Zambrano, who had won four straight decisions and not lost since May 25.
"One bad outing, it's already in the past," said Zambrano, looking forward to another chance next weekend against the Sox at Wrigley Field.
"My next start is against them at home, and hopefully it will be better."
Diaz (1-1) earned his first big-league win by keeping his composure in a frenetic setting at U.S. Cellular Field. He'd just been called up Friday to start the game after Scott Schoeneweis was put on the disabled list with a sore elbow.
Roughed up in his first two major league starts earlier this season when he gave up 11 earned runs in 82/3 innings, Diaz came through with a much stronger effort when the White Sox needed it.
"He tried to pitch the same way he did in the minors," White Sox catcher Sandy Alomar Jr. said, translating for Diaz. Then, Diaz surprised Alomar and everyone else during a news conference by speaking for himself in English.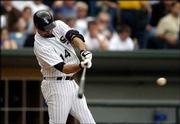 "You need to keep the ball down at all times," he said.
Devil Rays 6, Marlins 4
St. Petersburg, Fla. -- Carl Crawford drove in three runs, including a go-ahead RBI double in the seventh, and Tampa Bay beat Florida to tie a major-league record with its 13th straight interleague victory. The Devil Rays also became the first team in major-league history to climb above .500 at any point in a season after being 18 games below, continuing a surge during which they've compiled baseball's best record -- 26-7 -- since May 20.
Tampa Bay was 10-28 after losing 19 of 22 from April 25-May 19. But their turnaround, which included a club-record 12-game winning streak, has them at 36-35 -- the latest point they've been above .500.
Indians 4, Rockies 3, 12 innings
Cleveland -- Ben Broussard lined a game-winning double in the 12th inning to give Cleveland a victory over Colorado. The Indians lost ace C.C. Sabathia, who left because of a sore shoulder after retiring the side in the first on only eight pitches. Sabathia was taken for an MRI.
Jody Gerut singled with one out off former Indians reliever Steve Reed (1-2), who was the winner Friday night when Colorado prevailed 10-8 in 10 innings.
Broussard then lined a 3-2 pitch the opposite way to left-center and Gerut, running on the pitch, scored standing up.
Tigers 7, D'backs 6
Detroit -- Eric Munson homered leading off the ninth inning to give Detroit a win over Arizona. Carlos Guillen also homered and drove in four runs for Detroit, and Omar Infante added a solo shot as the Tigers handed Arizona its eighth straight loss.
Munson drove a pitch from Brandon Villafuerte (0-1) an estimated 457 feet over the center-field fence for his ninth home run of the season. It was the longest home run in Comerica Park history. Ugueth Urbina (3-2) pitched a scoreless ninth for the win.
Brewers 7, Twins 2
Minneapolis -- Jeff Liefer homered for the first time since July 30 and tied a career high with four RBIs to lead Milwaukee over Minnesota. Victor Santos won for the fourth time in five starts and Lyle Overbay drove in two runs with his major league-leading 30th double to help Milwaukee snap a three-game losing streak.
Phillies 9, Red Sox 2
Boston -- Jim Thome hit his major league-leading 26th home run, and Philadelphia took advantage of a season-high four Boston errors to score five unearned runs to beat the Red Sox. A day after Boston broke out with an eight-run inning and 12 runs in all -- Philadelphia's worst loss of the season -- the Phillies responded with a big inning of their own. They scored five in the fourth to break open the game -- four unearned, thanks to errors by pitcher Bronson Arroyo and first baseman Kevin Millar. Johnny Damon had two errors for Boston.
Mets 9, Yankees 3
New York -- On the opening day of this year's Subway Series, Al Leiter and the New York Mets were the top team in town. Leiter escaped a bases-loaded jam in the first inning, and the Mets beat up rookie Brad Halsey in a six-run fourth that propelled them past the Yankees.
Athletics 8, Giants 7, 10 innings
Oakland, Calif. -- Marco Scutaro singled in Bobby Kielty for the winning run in the 10th inning, and Oakland snapped San Francisco's seven-game winning streak. Octavio Dotel (1-0) blew a save -- the A's 15th this year -- in his Oakland debut, but earned the win.
Angels 7, Dodgers 5
Los Angeles -- Garret Anderson's second two-run homer drove in the go-ahead runs in the eighth, and Vladimir Guerrero added a two-run shot and scored three times to help Anaheim rally over slumping Los Angeles.
Rangers 8, Astros 7
Arlington, Texas -- Hank Blalock matched a career high with four hits, including the go-ahead homer in the eighth inning, and Texas beat Houston for its eighth straight win. Blalock went 4-for-5, and his 18th homer came with two outs off Dan Miceli (3-3). He's hitting .528 (28-of-53) over his last 15 games.
Houston, which claimed the Lone Star Series the last two seasons, lost for the second time in less than 24 hours since acquiring outfielder Carlos Beltran from Kansas City in a three-way trade in which it gave up Dotel.
Kevin Mench also homered, and Alfonso Soriano had four singles for the Rangers, who lead the AL West.
Blue Jays 10, Expos 5
Toronto -- Miguel Batista pitched seven strong innings, and Frank Menechino and Reed Johnson hit home runs to lead Toronto past Montreal. Toronto took advantage of three errors by Montreal, which entered with the fewest errors in the majors, leading to four unearned runs.
Mariners 7, Padres 3
Seattle -- Julio Mateo set a Seattle record by winning his first five career decisions, and Jolbert Cabrera hit a three-run homer in the sixth inning, leading the Mariners over San Diego.
Braves 5, Orioles 0
Baltimore -- Russ Ortiz pitched seven scoreless innings to earn his first victory in June, and Atlanta defeated Baltimore. Ortiz (7-6) allowed seven hits, walked two and struck out four.
Copyright 2018 The Associated Press. All rights reserved. This material may not be published, broadcast, rewritten or redistributed. We strive to uphold our values for every story published.