BENTONVILLE, ARK. — Wal-Mart, sick of being blamed for global and social woes, is turning on the charm.
After years of ignoring criticism from opponents -- among them religious groups, unions, small businesses and community advocates -- the world's largest retailer has gone on the offensive, writing letters to newspaper editors to protest negative coverage and filling the airwaves with ads peopled by happy employees.
"It's an effort to share the facts about our company rather than allowing others to define who we are," said Sarah Clark, a spokeswoman for the Bentonville, Ark., retail giant.
The stakes are high, and they keep getting higher as critics gain new ammunition to disparage the company.
Last week, a federal judge granted class-action status to a sex-discrimination lawsuit, clearing the way for a settlement or judgment that is likely to cost the company billions of dollars, in addition to the goodwill of some customers and investors. The ruling follows accusations that Wal-Mart forced people to work off the clock and that workers were locked in at night.
K.C. agency helping
Wal-Mart has put its longtime advertising agency, Kansas City, Mo.-based Bernstein-Rein, in charge of the "good jobs" ad campaign, in which beaming employees talk about how much they enjoy their jobs. Other ads tout Wal-Mart decisions to locate in low-income neighborhoods. But, asks marketing expert Anita Hersh, "Is it a credible message?"
The answer will determine whether Wal-Mart can effectively win the war of public opinion, said Hersh, chief executive of Lister Butler Consulting, a marketing agency in Manhattan.
By the most obvious measure -- Wal-Mart's sales, which rose 11.6 percent last year to $256 billion -- consumers don't seem repelled by the long-running negative coverage. But Wal-Mart has other stakeholders to satisfy, and there are signs that these investors are unsettled.
"Wal-Mart's stock has languished despite a commendable earnings performance, and reputational issues may have been a factor," Goldman Sachs analyst George Strachan wrote in a research note this month.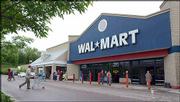 Since the class action lawsuit was certified, the shares have fallen about 4 percent, to close Friday at $52.51. The stock's 52-week high, reached March 4, was $61.31.
The caution of investors, who expect aggressive growth and punish evidence of stagnation, will grow if Wal-Mart cannot sustain its expansion plans. Yet it is facing opposition to those plans as communities rally against its presence, fearing it will drive mom-and-pop stores out of business.
Change, but slow
One critic, Sister Barbara Aires, a member of Elizabeth, N.J.-based Sisters of Charity, said she saw slow change at the company. Aires, who attended Wal-Mart's shareholder meeting earlier this month, is active with the Interfaith Center on Corporate Responsibility, an organization that buys shares of companies and then pushes them on social and environmental issues.
"We've begun to see gradual change," she said. "They realize, because of all of the litigation and potential risks to the brand name and to the public perception, that they have not done the right thing."
At the shareholder meeting, Wal-Mart announced a new job classification and pay-scale system, and said executives would lose a portion of their bonuses if the company did not meet its diversity goals. These are examples of the kind of change that Aires and others say must back up the charm offensive.
"Image must reflect reality," Hersh said. "It can't be cosmetics. Cosmetics wear off eventually."
Copyright 2018 The Lawrence Journal-World. All rights reserved. This material may not be published, broadcast, rewritten or redistributed. We strive to uphold our values for every story published.