Hutchinson — Square dancing, as the dancers themselves say, is like friendship set to music.
It's good, clean fun in a good, clean atmosphere. In some ways, it's a throwback to the old times when families descended on local venues to socialize, snack on potluck goodies, and catch up with their friends and neighbors.
There's no smoking. No swearing. No drinking. Absolutely no drinking.
There's really no time for drinking, either: As soon as the dancers step on the floor, the other couples in the "square" depend on each other to have all of their wits and mental capacity about them.
"All you have to do is listen," said dancer Shirley Durbin.
"If someone's been drinking, they can't pay attention to the calls," said her husband Bill Durbin, president of the State Fair Promenaders, a Hutchinson square-dance club. "You've got to be clear-headed. And there's so much twirling, it can become dangerous."
With frilly -- and not so frilly -- skirts for the ladies and long-sleeved shirts for the men, the dancers step out several times each month to area dances.
Welcome anywhere
When traveling, dancers often seek out events in the town where they're visiting.
"We get a lot of business when the RV rallies come to town," Bill Durbin said. "That's what a lot of them like to do for fun, and we'll provide that service for them."
The dancers describe the "restorative" powers of dancing, including the exercise aspect. In one evening of dancing, participants will walk the equivalent of three to five miles.
"I got into it when I was working most of the time," said Barbara Phillips. "No matter how tired I was at the end of the day, I always found it to be invigorating and revitalizing, and it really gets you to laugh and have a good time."
Frilly, barebones costumes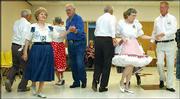 It's a hobby that is as expensive as you want to make it, said Wayne Phillips, a dancer and caller who has been involved in four different clubs over the past 30-plus years.
Aside from shoes and outfits, or traveling costs, admission at area dances is usually about $4. The cost of dancing lessons -- a series of 20 weeks -- is about $2 per lesson.
The friendly atmosphere alone keeps many of the dancers involved. When stepping in to dance, each dancer shakes hands and introduces themselves. When finished, they all thank each other for their dancing.
At conventions, a dress code is usually enforced, with club members decked in matching colors. The State Fair Promenaders, for instance, wear red and white.
Otherwise, dancers can wear pretty much anything they want.
"I think the outfits can keep people away, because they feel that they're not part of the group," Wayne Phillips said. "I think it's great, but some people just don't want to invest in it."
Numbers on decline
But the biggest change has been a decline in club memberships around the country.
In the early 1970s in Hutchinson, nearly 200 dancers belonged to seven different clubs, Bill Durbin said. Two of the clubs, the Salt City Squares and the Starlighters, combined forces in the early 1980s and became the State Fair Promenaders, which has a membership of about 30 dancers today. The average age of those members, Barbara Phillips says, is about 70.
"Young people are so involved in other things, that there's just not enough time for lessons," she said.
Regardless of the decline in attendance, many of the committed dancers believe that the art will draw new fans.
"I firmly believe that square dancing will come back, because people will get tired of rap music," Bill Durbin said. "There are no other forms of good, clean social dancing.
"And where else can you go for two hours for entertainment, to be fed, to meet people and to exercise -- for $4? I don't know of anywhere else I'd like to be."
Copyright 2018 The Lawrence Journal-World. All rights reserved. This material may not be published, broadcast, rewritten or redistributed. We strive to uphold our values for every story published.