Potomac, Md. — A curious fan watched Adam Scott hit a perfect wedge to within two feet to set up a birdie at the eighth hole.
"What's Scott's first name?" the fan said out loud as he looked at the scoreboard.
That would be Adam. Adam Scott. He's only the No. 15 golfer in the world, and he has turned this tournament into a rout.
The 23-year-old Australian survived the stiff breeze that stifled most of the field Saturday and shot a 67 to take a six-stroke lead in the Booz Allen Classic. His 18-under 195 total tied the 54-hole TPC at Avenel record set by Hal Sutton in 1991.
"It's almost poetry when it gets to being right, and the guy is on target now and playing beautifully," said playing partner Olin Browne, second at 12 under.
Playing like that, is Scott impossible to catch?
"No," Browne said. "We could slip him something in his food tonight."
More seriously, he added: "If he shoots 2 or 3 under tomorrow, nobody is going to catch him."
Browne raised his eyebrows and seemed in awe when Scott pounded a 300-yard drive into the wind at the 18th hole. Scott birdied the hole to finish a round that mixed seven birdies, three bogeys and more than his share of shots played from sand, fringe, rough and first cut.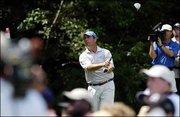 "It was playing tough at the end, and I just managed to hang on," Scott said. "And it seemed like a few of the other guys stumbled over the line."
Like Browne (71), who bogeyed two of his last three holes. Or Rich Beem (72), who tied Scott briefly for the lead before bogeying four straight holes on the back nine.
Scott has four international victories and two on the PGA Tour, including this year's Players Championship. He has won five straight when leading after 54 holes, and his confident air makes that easy to believe. He even talked about using Browne's praise of the long tee shot at No. 18 to his psychological advantage.
"I feel like it's quite good to get them thinking that way and hopefully go out and do it again tomorrow and just get in their head a little bit," Scott said. "Tiger (Woods) did it unbelievably well."
Scott also tied the lowest 54-hole total on the PGA Tour this year. Phil Mickelson had a 195 total through three rounds in the Bob Hope Classic, and David Toms did the same in the St. Jude Classic.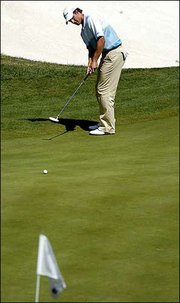 Scott missed only two greens in regulation in setting the course's 36-hole record in perfect weather Thursday and Friday. But he missed three greens in his first nine holes Saturday as he battled swirling wind that had flags flapping.
He landed in bunkers on three of four holes, although he managed to save par on two of them. His early highlight was a nice chip from 76 feet that landed a foot from the pin at the par-5 sixth, setting up a birdie.
A bogey at No. 9 allowed Beem to move into a tie for the lead, then Scott moved back ahead for the rest of the day with a 12-foot birdie putt at No. 10.
He then birdied the 13th and 14th, the two easiest holes on the course, before he found the rough again with his tee shot at the 15th and made bogey.
But, overall, he handled the wind and the increasingly bumpy greens far better than his nearest competitors. More wind today probably is all he needs to finish a runaway victory.
"I think it's pretty hard to catch up out here, especially if the wind is blowing," Scott said. "But even if someone does come at me, I think I'm playing well enough that I can hopefully hold them off."
Copyright 2018 The Associated Press. All rights reserved. This material may not be published, broadcast, rewritten or redistributed. We strive to uphold our values for every story published.