Raleigh, N.C. — History replaced mystery as top-rated forwards Alexander Ovechkin and Evgeni Malkin became the first Russian duo to be chosen with the first two picks in the NHL draft.
The choices came as a surprise to no one.
Ovechkin was the consensus top player available Saturday, and the Washington Capitals spurned several offers for the No. 1 pick and took the total-package forward.
Malkin was rated second on virtually all ratings charts, and that's where he was picked by the Pittsburgh Penguins.
Washington earned the right to go first by winning the draft lottery. After entertaining 15 trade offers, the Capitals decided the best move was to draft Ovechkin.
"We've had him rated No. 1 for a long time," Capitals general manager George McPhee said. "We could have done a trade for volume, but none of those players would have been as good as this guy."
Ovechkin, 18, was the overwhelming favorite before the NHL's Central Scouting department ranked him first among European skaters.
He was praised for his speed, size and stickhandling as well as his willingness to jump back on defense.
"I've been waiting for this day for maybe two years," he said.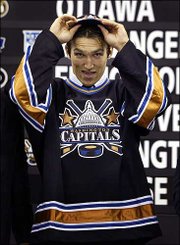 Copyright 2018 The Associated Press. All rights reserved. This material may not be published, broadcast, rewritten or redistributed. We strive to uphold our values for every story published.