Berlin — Hundreds of thousands of revelers wearing everything from full Victorian garb and designer gowns to skimpy leather and construction hats celebrated gay pride in cities around the world Saturday.
Berlin saw one of Europe's largest parades. To the sound of thumping techno music, the city's openly gay Mayor Klaus Wowereit led floats in the 12th annual celebration of Christopher Street Day, commemorating the start of the gay-rights movement in New York's Greenwich Village in 1969.
Police estimated that about 200,000 people snaked their way from the chic Kurfuerstendamm boulevard to the landmark Victory Column, while organizers said the crowd swelled beyond 500,000.
Wowereit told the cheering crowd that while the parade was "fun and colorful," the gay community still was marginalized.
"We must fight against that," he said.
Mexico
Parents led the way in Mexico City as thousands marched to celebrate gay pride and promote tolerance.
With dance music blasting from floats carrying mostly young men, the march stretched across four lanes of traffic and measured about 10 city blocks as it wound from the Angel of Independence monument to Mexico City's central plaza.
"We have to keep up the fight, the peaceful fight" for homosexuals' rights, said Jorge Sanchez, 45, of Mexico City, whose T-shirt declared, "I love my gay son."
Sanchez, who led the parade in a vehicle with other parents, said his 23-year-old son announced his homosexuality in December.
"I'm here to demonstrate my love and support for him as a person," Sanchez said.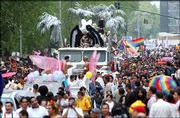 Fashion designer Alberto Gonzalez, 23, traveled 410 miles from Villahermosa to Mexico City, where a male model showed off a Gonzalez gown based on Mayan Indian motifs.
The designer said he made the trip not only as a gay activist but also as an artist. "It fills me with pride to see that people like my work," he said.
Canada
Canada's largest gay and lesbian pride celebration -- a weeklong festival in Toronto that started June 21 -- continued Saturday with petitions calling for protection of same-sex marriage rights, an issue in Monday's national election.
Activists fear if Conservatives win control of the government from the Liberal Party, they would overrule decisions last year by courts in Ontario, British Columbia and Quebec allowing gay couples to marry.
"The fact this is still a contentious issue, I think, speaks even more loudly about how important Pride as a festival really is," said Ayse Turak, co-chair of festival organizer Pride Toronto.
Today's annual Pride Parade, expected to attract about 1 million spectators and participants, concludes the festival.
France
In Paris, the gay-pride march had a similar political tone, coming three weeks after the mayor of Begles, near Bordeaux, celebrated the first homosexual marriage in France and was suspended for a month for defying authorities.
Conservative President Jacques Chirac has asked for dialogue on the subject, and legislation condemning discriminatory words of a sexist or homophobic nature has been proposed. But many of the 90 groups backing Saturday's march consider it insufficient.
Under the slogan "Enough Hypocrisy, Equality Now," thousands marched with 60 floats from a Left Bank square to the Bastille and across the Seine River, led by Paris' openly gay Mayor Bertrand Delanoe.
Poland
A gay pride parade planned earlier this month in Warsaw, Poland, was banned by Mayor Lech Kaczynski, who said he feared clashes with opponents planning their own demonstration.
Poland's Gay and Lesbian Assn. failed in attempts to have provincial authorities overturn the ban, and Berlin's marchers pledged to support them in trying to parade again next year.
"The ban on demonstrating for lesbians and gays is an infringement on basic rights," said Volker Beck, a lawmaker in Germany's Greens party. "That is in no way acceptable."
Copyright 2018 The Associated Press. All rights reserved. This material may not be published, broadcast, rewritten or redistributed. We strive to uphold our values for every story published.