New York — Having the family around might have no effect at all. Jose Contreras could remain the same pitcher he was last season, a guy who won in June and got clobbered in October.
Or perhaps the wife and kids will make things worse. That's possible. Surely you can picture a scenario in which the missus, after discovering Fifth Avenue and French food and stretch limos, wears out a few American Express platinum cards and blows the family budget. Or his two daughters become MTV'd too quickly and do what our kids do: talk back to their parents and refuse to go to bed. That can wear on a man. That can distract him on the job.
Then there's the third possibility. That's the one the Yankees are curious about, the only one they care about, the one that could cure the team weakness, the one that would reassure them that they didn't waste millions on a Cuban refugee after all.
Can a man reunited with his family become a better pitcher?
For now, the only beneficiary of the emotional reunion between Contreras and his family is Contreras and his family. The impact that this will have on Contreras and his team will have to wait.
During a short interview Friday, he expressed relief five days after his wife and kids squeezed aboard a speedboat with 18 other freedom-seekers and made the risky and choppy voyage from Fidel Castro to the U.S. shore.
He discussed how, for about 21 months since he arrived here in similar fashion, he missed them. He recalled embracing his 11-year-old daughter Naylan, who cried in his arms and said she thought she'd never see him again.
"I don't have the words to describe the happiness I feel," Contreras said.
Anyone who cries easily will need three hankies to get through this latest chapter of the Contreras story. Two girls missed their father, a wife missed her husband and a ballplayer walked inside an empty apartment every time he came home from the ballpark. Now, after a daring and mysterious escape from Cuba, they're all together, ready to lend each other some much-needed and much-missed love and support.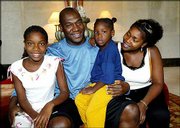 Of course, this reunion can be overdramatized, too. Keep in mind that Contreras' family wasn't taken from him; he left the family. There's a difference. This wasn't some tragedy. His desire to pitch in the big leagues and make big dollars was too strong to ignore, so he kissed his wife and kids goodbye and took off. That was his choice. Therefore, the breakup of the Contreras family wasn't an accident; it was by design.
Here's something else to consider. Eventually, you knew the family would reunite, simply because of what Contreras does for a living. Did you forget? He pitches for the Yankees. He makes good money. Put those two influential factors together and things happen. It was only a matter of time before everyone was back under the same roof.
Now that it's one big happy family again, the team that made it possible would like to know: How will this help us?
As sparkling as their won-lost record is, the Yankees have concerns that could follow them into October. Mainly, their starting pitching beyond Mike Mussina.
Kevin Brown is hurt -- what else is new? Javier Vazquez still hasn't pitched a big game in his life. Jon Lieber goes hot and cold -- lately, mostly cold.
Then there's Contreras, who hasn't been the overpowering pitcher the Yankees thought they had when they gave him a four-year, $32 million contract.
Copyright 2018 The Lawrence Journal-World. All rights reserved. This material may not be published, broadcast, rewritten or redistributed. We strive to uphold our values for every story published.