First-year umpire Brad Vibbard was working a Parks and Recreation league baseball game for fourth- and fifth-graders when there was a close play at first base.
The 23-year-old raised his fist to call the runner out, and a chorus of angry voices rose up from the bleachers, led by an elderly woman who declared that kids shouldn't be umpiring little league games.
For Vibbard and others who spend their summer evenings calling balls, strikes and outs, being an umpire is an occasionally thankless task that requires a thick skin and a lot of patience. But, for most umpires, the summer job is a labor of love, motivated by a desire to help kids learn the game.
"I blew a call and got yelled at by a grandmother," said a somewhat-shaken Vibbard after the game, while fellow first-year umpire Chris Smart poked fun at his friend's misfortune.
"You just gotta stand your ground," said Vibbard, a former Kansas University baseball player.
For Vibbard, the little league umpire gig is just for the summer, while his college teammate Smart hopes it may be the beginning of a career behind the plate.
"I gotta start low and work my way up," Smart said.
Smart's not the only Lawrence umpire with big plans.
Taylor Worthington is in his second year with the Douglas County Umpire's Assn., the organization that officiates Douglas County Amateur Baseball Assn. games for players between the ages of 7 and 12.
"My dream is to be a major league umpire," said the 15-year-old, who rides his moped to the games at the 4-H fairgrounds.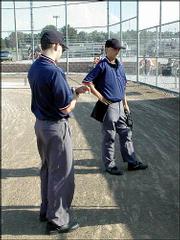 Worthington is realistic about what it takes to succeed at the highest level, though.
"It's very hard to be a major league umpire," he said. "You have to go through vigorous training."
Worthington said he loves his job because he gets to be outside, enjoy the game and have fun. He's already come a long way in his second year.
"Last year I was so nervous that I'd have to throw a coach out," he said. "This year I've gotten a lot more comfortable with my strike zone."
He's already had to eject two coaches this season -- no easy task when they're often twice his age.
One of the challenges umpires face is keeping themselves under control, even when coaches and parents have completely lost sight that it's a little league game.
"You're not supposed to let it get to you, but I admit to doing it sometimes," said Worthington, who started umpiring when he saw a sign at school posted by his science teacher, who is also the head umpire in his league. "I try not to get emotional, and just let the kids have fun."
And that, he believes, is the key to being a good umpire, whom he described as "someone who is flexible, someone who can make changes and really has a good attitude on life. And when they do something wrong, they can accept it and change it."
Not every Lawrence umpire has to deal with angry coaches and parents regularly, though.
For those who work with the younger Parks and Recreation leagues, the job has a decidedly different flavor.
Diedre Bieber, who officiates games for first-and second-graders, enjoys helping kids get into sports.
"It's so much fun watching them learn and seeing the light bulb go off in their head," said the 24-year-old KU graduate student, who studies sports administration.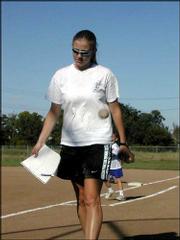 Bieber isn't doing it for the money. In fact, she's not even exactly sure how much she makes.
She's more concerned with keeping the games flowing smoothly than calling everything by the book.
"If one of them doesn't touch the bag going around the bases, I'm not going to get too excited about it," Bieber said.
While Bieber's task is certainly different from her peers working older kids' games, there are some things that all little league umpires have in common.
The job requires the ability to understand what works for the players at each age group. Eight-year-olds may need the umpire to step in and help them get the rules straight, while 12-year-old players want to play a serious game with consistent officiating.
And most people don't even notice the efforts of people who ensure a level playing field, unless, of course, they don't like a call.
But that's kind of the point.
"I really try and lay low," Bieber said. "I think umpires should be involved with the game as little as possible. All the way from this level to a professional level."
Copyright 2018 The Lawrence Journal-World. All rights reserved. This material may not be published, broadcast, rewritten or redistributed. We strive to uphold our values for every story published.