Arlington, Texas — Kenny Rogers accomplished something even more important for the Texas Rangers than becoming the AL's first 10-game winner.
He gave the bullpen a night off.
Rogers threw a three-hitter, and the Rangers won 3-1 to spoil Carlos Beltran's Houston debut Friday night, a day after seven Texas relievers were needed in an 18-inning win.
"You can't dial up any better than that," manager Buck Showalter said. "I don't know what more you can do to give a club what it needed than what Kenny did."
Rogers (10-2) threw 61 of 90 pitches for strikes. The 39-year-old left-hander joined Houston's Roger Clemens as the only 10-game winners in the majors. It was Rogers' second complete game of the season and the 35th of his career.
After Thursday's 18-inning game against Seattle, Showalter moved Rogers up from his scheduled start Saturday. Just as planned, he preserved the bullpen -- not even one reliever had to warm up.
"Without a doubt, that is the most rewarding thing," Rogers said. "It was just a game at the perfect time for us. I was more than happy to be the guy that went out and did it."
Rogers retired 13 straight batters before Beltran hit a leadoff double in the seventh. After a flyball moved him to third, Beltran scored the Astros' only run on Jeff Kent's sacrifice fly.
Beltran went 2-for-4 a day after he was traded to the Astros from the last-place Kansas City Royals in a three-way deal that also sent reliever Octavio Dotel from Houston to Oakland.
"My first at-bat was almost like my first at-bat in the big leagues. I'm glad this one is over with," said Beltran, whose infield single in the first extended his hitting streak to 10 games.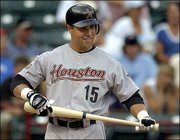 Beltran, who started in center, caught three flyballs.
Padres 3, Mariners 2
Seattle -- Brian Lawrence earned his ninth win, Phil Nevin hit a two-run single, and San Diego held off Seattle when pinch-runner Hiram Bocachica made a base-running mistake for the final out. Bocachica was running for Dave Hansen, who drew a leadoff walk from Trevor Hoffman in the ninth. With two outs and Bocachica on second, pinch-hitter Edgar Martinez hit a grounder up the middle.
Second baseman Mark Loretta made a tough stop, but Martinez beat the throw to first for an infield single. Bocachica made a wide turn around third, then scampered to try to get back. But it was too late.
Giants 6, Athletics 4
Oakland, Calif. -- Jason Schmidt pitched into the ninth inning to win his career-best 10th consecutive decision, leading San Francisco to its seventh straight victory. Schmidt (10-2), coming off a one-hit gem against Boston on Sunday, hasn't lost since dropping his first two starts of the season. He allowed four runs and five hits, struck out four and walked three.
Cubs 7, White Sox 4
Chicago -- Mark Grudzielanek picked a fine time for his first homer and first RBIs of the season. In the process, he picked up the Cubs and sent them to a victory over White Sox in the opener of their spirited interleague series. A sellout crowd of 39,596 watched Grudzielanek's three-run shot give the Cubs the lead and Mark Prior the victory on a sunny and cool day at U.S. Cellular Field, where the Sox made three errors.
Devil Rays 2, Marlins 0
St. Petersburg, Fla. -- Dewon Brazelton took a no-hitter into the eighth inning, and Tampa Bay beat Florida for its 12th straight interleague victory. Brazelton (1-0), the third pick in the 2001 draft behind Joe Mauer and Mark Prior, lost his no-hit bid when Mike Lowell lined a ground-rule double to left-center with two outs in the eighth. The 24-year-old right-hander -- who walked six, struck out five and hit a batter in his 15th major-league start -- left to a standing ovation.
Tigers 2, D'backs 1
Detroit -- Jason Johnson allowed one hit in eight sharp innings, and Detroit beat Arizona, sending the Diamondbacks to their season-high seventh straight loss. Johnson (5-7) set down the first 12.
Rockies 10, Indians 8, 10 innings
Cleveland -- Larry Walker hit his third homer of the game -- and third of the season -- in the 10th inning to send Colorado over Cleveland. Walker, playing just his fourth game this year after being sidelined for 68 games with a groin injury, drove the first pitch from former teammate Jose Jimenez (1-6) into the right-field seats. The two-run shot scored Todd Helton, who opened the 10th with a single.
Walker also connected for solo homers in the second and sixth innings for the Rockies, who trailed 5-2 after five before scoring six times in the sixth. He went 4-for-4 with five RBIs, one coming on a bases-loaded walk in Colorado's six-run sixth.
Blue Jays 3, Expos 1
Toronto -- Josh Towers allowed one run in seven-plus innings, and Reed Johnson had two RBIs, leading Toronto over Montreal. Towers (2-2) allowed six hits, struck out three and walked one a day after Toronto's pitchers were rocked in a 19-13 loss to Tampa Bay. Jason Frasor pitched a perfect ninth for his seventh save in eight chances for Toronto.
Orioles 5, Braves 0
Baltimore -- Rookie Daniel Cabrera pitched a four-hitter for his first major-league shutout, leading Baltimore past Atlanta. Melvin Mora homered in his abbreviated return to the Baltimore lineup, and Larry Bigbie hit three doubles and scored twice.
Twins 6, Brewers 3
Minneapolis -- Johan Santana won his fourth straight start, and Cristian Guzman homered and scored four runs to lead Minnesota to its third consecutive victory. Santana (6-4) picked up right where he left off after striking out 12 Brewers on Sunday. He struck out the first four batters he faced Friday and finished with 10 overall. The left-hander now leads the American League in strikeouts with 100.
Santana gave up four hits and one run in seven innings. In his past four starts, he has a 1.80 ERA, allowing only six runs in 30 innings with 39 strikeouts. Joe Nathan pitched the ninth for his 22nd save in 23 opportunities.
Red Sox 12, Phillies 1, 8 innings
Boston -- Manny Ramirez homered, drove in five runs and made an impressive diving catch late in Boston's rain-shortened win over Philadelphia. Pedro Martinez allowed one run -- Jim Thome's major-league-leading 25th home run -- on two hits in seven innings for Boston. The game was called after a 49-minute rain delay with one out and no runners in the bottom of the eighth.
Angels 13, Dodgers 0
Los Angeles -- Darin Erstad hit his first homer of the season and drove in four runs, Jarrod Washburn and Derrick Turnbow combined on a four-hitter, and Anaheim routed Los Angeles. Garret Anderson, Jose Guillen, Bengie Molina and Erstad all had three hits for the Angels, who have won five straight against the Dodgers dating to last season. Vladimir Guerrero hit his 18th home run.
Dodgers infielder Robin Ventura pitched a scoreless ninth.
Copyright 2018 The Associated Press. All rights reserved. This material may not be published, broadcast, rewritten or redistributed. We strive to uphold our values for every story published.