A no-hitter and a 9-1, run-rule victory in the first game of a doubleheader Wednesday night sure seemed like it might straighten things out for a Lawrence Raiders team that had struggled to a 7-6 record during the last two weeks.
Then came a four-run, first-inning hiccup against Topeka Post 1 in the nightcap at Free State High School.
"Everything was going pretty well, then we give up those runs on errors and miscues," said Dominick Harrell, who pitched for the first time this summer and recorded 10 strikeouts in five innings in the first game.
Luckily for the Raiders, Lawrence rebounded for four runs of its own in the second inning and cruised to another shortened game, winning 12-4 in six innings in its last tune-up before today's Al Ice Memorial Wood Bat Classic.
"Anytime you can win, you're going to feel a little more confident," said Raiders coach Reggie Christiansen. His 15-7 team will open the four-day, 17-game tournament with a 7:30 p.m. contest against Dodge City at Hoglund Ballpark.
"I think we came out a lot looser tonight. We took some swings in the cage beforehand, and I just told the guys, 'Relax and have some fun because you can't play this game forever.'"
Pitching, which hasn't been a problem recently for the Raiders, was again a strength because both Harrell and Joe Crane were successful in their first starts of the season.
But an even bigger highlight had to be the Raiders' timely hitting.
"We had kind of been struggling at the plate, just rushing our swings and trying to get too much done in one at bat," said Carl Lisher, who had two runs scored and two RBIs in the first game.
Jake Hoover bombed a triple in the second inning of the first contest, and scored on Aaron Madill's blast to center field. Lisher's ground-rule double gave Lawrence a lead it wouldn't relinquish. Those extra-base hits came on three consecutive pitches.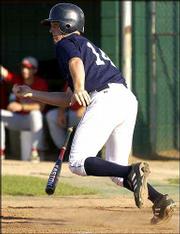 Harrell, who will be a sophomore right fielder at Neosho County Community College next season and helped pitch the Raiders to victory during last year's American Legion state championship game, said he felt part of that familiar feeling Wednesday.
"They couldn't hit my curve ball," Harrell said. "My arm felt pretty good. Obviously, I would have rather have thrown seven innings, but I guess a five-inning no-hitter is still official."
But shortly after his gem, the Raiders had a grungy start in the second game allowing Topeka four runs off two errors in the first inning.
However, Lawrence rebounded with four runs in the second inning when Taylor Martin, Aaron Madill, and Paul Metzler connected on consecutive singles.
A Brett Lisher single, and another RBI single by Madill gave the Raiders a 6-4 lead after the third.
With its first back-to-back wins in more than a week, Christiansen said his team could have made a turning point just in time for this week's "tournament in their backyard."
"This is a big tournament not just for our team because it's at home, but for the community and all the people who helped to put it together," he said.
"Every time we go out and play we tell our guys to treat the atmosphere the same way, but you can be sure the guys will be playing with a little extra something this weekend."
Raiders 9, Topeka Post One 1
Topeka 100 00 -- 1 0 3
Lawrence 134 1X -- 9 9 2
W -- Dominick Harrell (1-0). L -- Phil Greenley.
3B -- Jake Hoover, Raiders. 2B -- Aaron Madill, Carl Lisher, Raiders.
Raiders Highlights: Dominick Harrell no-hitter, 10 strikeouts in 5 innings; Ryan Engel 2-for-2, run, RBI; Carl Lisher 1-for-2, 2 runs, 2 RBIs; Taylor Martin 1-for-1, 2 RBIs; Aaron Madill 1-for-2, 2 runs, RBI.
Raiders 12, Topeka Post One 4
Topeka 400 000 -- 4 8 4
Lawrence 423 03X -- 12 11 2
W -- Joe Crane (2-0). L -- John Stadler.
2B -- Dominick Harrell, Taylor Martin, Jake Hoover, Raiders.
Raiders Highlights: Dominick Harrell 1-for-2, 2 stolen bases, 2 runs, RBI; Taylor Martin 2-for-3, 2 runs, RBI; Paul Metzler 1-for-2, 2 RBIs; Aaron Madill 2-for-3, 2 runs, 2 RBIs.
Copyright 2018 The Lawrence Journal-World. All rights reserved. This material may not be published, broadcast, rewritten or redistributed. We strive to uphold our values for every story published.