Omaha, Neb. — Carson Kainer, the last regular player in Texas' lineup without a hit at the College World Series, got the most important one of his young career and the Longhorns advanced to the finals.
Kainer doubled in the go-ahead run in the seventh inning, and Huston Street pitched three innings of one-run relief to help Texas to a 7-6 comeback victory over Georgia on Wednesday.
"Championships are won by the unexpected," Texas coach Augie Garrido said. "We did what it took at the right time, with Carson getting his first hit."
The Longhorns (58-13) will face either South Carolina or Cal State Fullerton in the best-of-three championship series that starts Saturday. South Carolina beat Fullerton 5-3 Wednesday night, and those teams will play again today. The winner moves into the finals.
Texas will be playing for its sixth national title and second in three years. Georgia (45-23) was eliminated, losing twice to top-seeded Texas.
"They're a championship ballclub that continues to answer everything their opponent brings at them," Bulldogs coach David Perno said.
The Longhorns' rally marked the first time in the CWS that a team had come back from five runs down to win since Stanford erased an eight-run deficit to beat Tulane in 2001.
"I believe that's the 27th time we've come from behind to win," Garrido said, "so it wasn't our first rodeo."
Street (6-1) prevailed, allowing four hits in three innings.
The Longhorns, who trailed 5-0 in the third inning, used two doubles to take the lead in the seventh. Dooley Prince led off with the first, chasing reliever Matt Woods (2-3).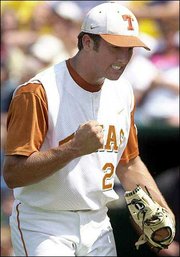 Will Startup, the All-Southeastern Conference closer, came on and one out before Kainer doubled down the left-field line for his first hit in 10 at-bats.
"That was a good place to get it," the freshman All-America said.
Texas hit four home runs.
Georgia sent 10 batters to the plate in the third, scoring five runs.
Georgia tied it 6-6 against Street, who was the CWS' Most Outstanding Player as a freshman in 2002.
Jason Fletcher and Chad Blackwell combined to hold Fullerton hitless over the last five innings. Bryan Triplett homered and drove in the go-ahead run for South Carolina (53-16), which forced a rematch with the Titans (44-22).
Fletcher (6-1) went six innings and allowed all five Fullerton hits. Fletcher and Blackwell combined to retire 16 of the last 17 batters after Ronnie Prettyman's bunt single in the fourth inning.
"Last night when I got the word I was going to start, I had chills going all night," Fletcher said. "I tried to call everybody I knew to let them know they should watch the game tomorrow. We deserve this, to be out here and still playing."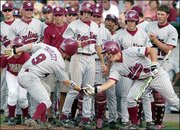 Blackwell earned his nation-leading 20th save.
"That's a little bit long for a closer to go three innings, but if you don't win, you don't play, so we ran him out there and it worked out for us," Gamecocks coach Ray Tanner said.
Mike Martinez (8-3) took the loss after allowing five runs and 11 hits in 6 1/3 innings.
"Everybody wanted a day off tomorrow, but we're working," Fullerton coach George Horton said. "We got outplayed, plain and simple."
Felipe Garcia's two-run double in the first inning gave Fullerton the lead, but South Carolina scored in the second on Brendan Winn's RBI single and went ahead 3-2 in the third on Triplett's two-run homer.
The Titans tied it at 3 in the fourth after Sergio Pedroza walked and took third on P.J. Pilittere's single. Pedroza came home on Prettyman's squeeze bunt.
The Gamecocks took the lead in the seventh inning. Davy Gregg bunted and reached third when Martinez threw wildly to first after going to his knees to field the ball.
"I felt like I had to dive and I didn't pick it up cleanly, and I made an off-balance throw," Martinez said. "It got away from me."
Gregg said he was surprised to see Martinez's throw rolling down the right-field line.
"Once I crossed first base and saw it out the corner of my eye, I was just off to the races," Gregg said.
Triplett followed with a tiebreaking single between third and shortstop, and Steve Pearce added a run with an RBI single.
A South Carolina win today would set up a rematch of its 2002 CWS final against Texas. The Gamecocks have been national runners-up three times, but have never won a title.
Copyright 2018 The Associated Press. All rights reserved. This material may not be published, broadcast, rewritten or redistributed. We strive to uphold our values for every story published.