Harry Potter look-alike Kirk Hinrich is asked about his hair seemingly everywhere he goes.
"I guess it's part of being in the spotlight," said the 6-foot-3 former Kansas University point guard, who spent as much time talking about his stringy black locks as his basketball skills during a wildly successful rookie season with the Chicago Bulls.
"It wasn't like I was popular at first. I wasn't popular until I started playing well. Put in the work, and the fans will appreciate what you do," added Hinrich, named to the NBA's 2003-04 all-rookie team after averaging 12.0 points and 6.8 assists in a team-high 35.6 minutes per game.
Hinrich -- who used an extra dose of gel to push his hair over his forehead and out of his eyes Wednesday at Bill Self's KU basketball camp -- hasn't made Chicago fans forget Michael Jordan.
Not yet, anyway.
But he's added some life and interest to a fan base that, like Hinrich, suffered through a dismal 23-59 season.
"I enjoyed going out and competing every night," Hinrich said before scoring 15 points, including the game-winning layup, in the KU alumni team's 81-77 win over the current Jayhawks at Horejsi Center.
"But obviously it got really frustrating. I'd never been on a team that bad. Hopefully it'll turn around, and we'll make the playoffs next year."
Hinrich, who ranked eighth in the league in assists per game, 15th in three-point field goals made (133), 22nd in steals per game (1.36), 31st in three-point field-goal percentage (.384) and 39th in free-throw percentage (.810), was the league's only rookie to record a triple double.
No wonder he was named Chicago Bulls player of the year.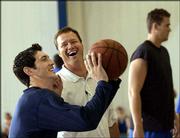 "To be a point guard in the NBA, every night you have tough matchups," said Hinrich, beginning the second year of a four-year, $10.4 million contract. "Guys like Jason Kidd, Stephon Marbury, Baron Davis, those are some of the best players you go against.
"Once you get the confidence you can play in the league ... after that is when you get better."
Hinrich said the highlight of his season was "getting to go to L.A. to play in the rookie game (at all-star break). The lowest part is the losing. The last 15, 20 games -- when we knew we weren't going to the playoffs -- it kept dragging after that."
Hinrich said he would watch the NBA draft with interest tonight and again next season, when KU's Wayne Simien could be a lottery pick.
"Wayne is a great player. He's tough inside, has been consistent four years. I'm sure somebody will pick him to help their team," Hinrich said.
Of point guard Aaron Miles, who scored eight points with a batch of assists Wednesday, Hinrich said: "I think Aaron has a great chance. He is a point guard who is a proven winner. I think NBA teams are starting to look at guys from winning programs."
Ex-Jayhawk Billy Thomas erupted for 25 points, while Nick Bradford had 15, including two three-pointers down the stretch. Scot Pollard had 14 points, while 7-foot-2 Eric Chenowith, who has bulked up to 295 pounds as he looks for a free-agent opportunity with an NBA team, had 12 points and at least as many boards.
J.R. Giddens, who was cleared to play pick-up basketball Wednesday for the first time in three months following foot and knee surgeries, erupted for 18 points, including four threes.
Simien and freshman Sasha Kaun had 13 and 10 points respectively.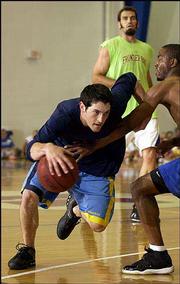 The draft: Here's KU coach Self's take on tonight's NBA draft. "I feel Emeka will be first, he or Dwight Howard," Self said of UConn's Emeka Okafor and prep pivot Howard. "I'd take Emeka first. He has proven himself at a high level. The only negative with Emeka is a back problem. You don't want it to be chronic.
"Don't be surprised if seven high school guys go in the first round and seven Europeans. It really narrows the pool of college guys getting drafted."
KU figures to be shut out of the draft for the first time since 2000.
"Hopefully we'll have three seniors -- Aaron, Keith (Langford) and Wayne -- be drafted next year," Self said. "A lot remains to be seen if anybody has a great year, especially J.R., that would potentially warrant a jump. He knows he has a lot of work to do."
KU senior Jeff Graves doesn't figure to be taken tonight, but could land an invitation to a summer-league team.
"A lot of times you are better off not getting drafted if you don't get drafted in the first round," Self said. "If you get drafted into a team, they could already have 12 guaranteed contracts. I'm hopeful if he is not a first- or second-round pick he'd be able to go as a free agent. That way he'd be able to pick what camp as opposed to telling him where he has to go."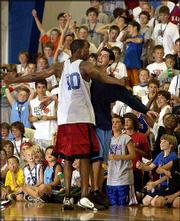 Graves said he's not been contacted by any NBA teams yet.
"I'm going to keep my name out there. I'm not going to give up," Graves, a center for the Kansas Cagerz, told the Salina Journal. "There are still a lot of opportunities out there, and I'm going to keep working hard and try and get there," added Graves, who averages 7.6 points and 5.9 boards entering the USBL's postseason tournament.
Self, by the way, thought Iowa State's Jackson Vroman "is the sleeper in our league in the draft."
Summer recruiting: Self talked Wednesday about KU's plans in recruiting during the month of July.
"The game plan is to follow our commitments around (Mario Chalmers and Micah Downs) and make sure they understand how important they are to us," he said. "Past that we've got to get us a big guy, and we've got to get us a guard. I don't think there's a ton of pressure to deliver on either one of them in the next month or two."
He said KU, which has filled two of four scholarship allotments, also would "get a head start on juniors-to-be and sophomores and get a pool of 25, 30 guys we feel are recruitable, who will seriously consider us and make us better."
Copyright 2018 The Lawrence Journal-World. All rights reserved. This material may not be published, broadcast, rewritten or redistributed. We strive to uphold our values for every story published.