Seoul, South Korea — The beheading of a South Korean hostage set off demands, including from the president's own party, for the country to stop sending troops to Iraq.
The stunned nation awoke Wednesday to television images of a blindfolded Kim Sun-il kneeling in an orange jumpsuit before his masked captors and news that he was later decapitated.
President Roh Moo-hyun denounced the killing and stood by his government's plan to send 3,000 additional troops to Iraq beginning in August. But the slaying underlined divisions on the domestic front.
"This incident was shocking and tragic, but it mustn't shake our decision and principle to send troops to Iraq," the country's biggest newspaper, Chosun Ilbo, said in an editorial. "In times like this, the president and the government must focus and not allow the deployment issue to once again divide the public."
But civic groups called for a cancellation of the deployment, and students hung black-and-white mourning banners and built funeral altars on campuses while pledging to step up their campaigns against the troop dispatch.
About 2,000 protesters rallied at a candlelight vigil Wednesday night to mourn Kim and oppose the troop dispatch. Many held placards reading "Bush and Roh killed Kim Sun-il" or "We don't want to die. Korean troops get out."
Seoul has portrayed the troop dispatch as a way of strengthening ties with the United States and winning its support for a peaceful end to the standoff over North Korea's nuclear programs. But many South Koreans oppose the mission, which was originally scheduled for April.
The 3,000 troops are earmarked for the northern city of Irbil and will be joined by 600 medics and engineers now in southern Iraq. When complete, South Korea will be the biggest coalition partner after the United States and Britain.
Kim's kidnappers had demanded that Seoul scrap the deployment and pull out the 600 medics and engineers.
"The government was irresponsible," said Park Bong-ju, a 28-year-old office worker. "This tragedy happened because of the government's plan to send troops. We must cancel a dispatch plan and withdraw soldiers who are already in Iraq."
For others, the killing seemed to strengthen the backing for the military mission.
"I don't think the government should cancel its troop deployment," said Cho Hang-duk, a 42-year-old office worker. "This is time for the nation to tighten its unity and show to the world we stand together in a difficult time."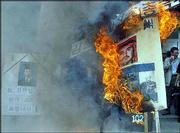 Copyright 2018 The Lawrence Journal-World. All rights reserved. This material may not be published, broadcast, rewritten or redistributed. We strive to uphold our values for every story published.