Istanbul, Turkey — A cartoon on the front page of a Turkish newspaper shows Prime Minister Recep Tayyip Erdogan standing alone at the airport welcoming President Bush. Behind Erdogan an angry crowd holds placards reading "Bush Go Home!" and "No to Bush."
Turkey is one of the United States' closest allies in the region, but when Bush arrives Saturday ahead of a NATO summit, he will find a country where anti-American sentiments are soaring because of the U.S. invasion of Iraq.
Bush "has created chaos in the world, triggered terror, and brought blood, tears, and homelessness to the Middle East, instead of bringing stability," said Nesrin Saral, 35, as she shopped for shoes in an Istanbul mall.
What the United States "has been doing to prevent terror is really being done to gain more land and oil," she said.
Distrust of the United States is not limited to the Turkish streets. The military is also extremely wary about the U.S. presence in Iraq; politicians worry the U.S. invasion could lead to Iraq's collapse, destabilizing the region.
"We Turks don't have much sympathy for Bush," said Sami Kohen, a columnist with the Milliyet newspaper. "The way that he has been portrayed (is) that he is for war and that he invaded Iraq and that he is acting very selfishly ... and that he doesn't even consult his allies."
Turkey is an ally of increasing importance for the United States and its efforts to stabilize Iraq and change perceptions in the Islamic world. Turkey is a secular, democratic state; the only Muslim member of NATO; and a candidate for membership in the European Union.
Erdogan was one of a handful of regional leaders invited to a summit of major industrialized countries in the United States this month to discuss U.S. proposals to promote democracy in the region.
Despite the public's anger over Iraq, ties with the world's only superpower are critical for Turkey as it pushes for EU membership and struggles to improve its economy.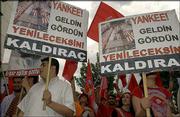 "Turkish-American relations are strategic and therefore I don't expect tense or low relations over the long run," said governing party lawmaker Murat Mercan.
"There may be differences of opinions on some occasions," he said, but Turkey regards "America as our strategic ally ... and for the United States, Turkey is also in the same category."
Bush arrives on Saturday night in Ankara. He meets with Turkish leaders Sunday before leaving for Istanbul and the NATO summit, which opens Monday.
Among issues NATO leaders are expected to discuss are a possible role for alliance troops in helping to stabilize Iraq.
Copyright 2018 The Associated Press. All rights reserved. This material may not be published, broadcast, rewritten or redistributed. We strive to uphold our values for every story published.