When you think of truly great sausage, places like Milwaukee, Chicago or New York's Little Italy probably come to mind.
Not Lawrence.
But you might want to rethink that because some fine sausage is being turned out in the city and its surrounding communities.
And if you've never taken the opportunity to sample sausage that's crafted locally, using the highest-quality meats and spices, it's time.
In the past five years, there's been a resurgence in the popularity of sausage across the country, according to Tom King, manager of the meat and seafood department at Community Mercantile Co-op, 901 Iowa.
The reason, he said, has to do with an increasing interest in rustic styles of cooking, a higher awareness of organic or all-natural products and a movement toward artisanal techniques in food preparation.
"As sausage making grew more mechanized, who knew what was in it? It came to be kind of a mystery meat. It was getting a reputation as a cheap food," King said.
"So some restaurants began designing and making their own sausages. They elevated it (into a respected dish). It's a great art that has recently been revived."
The Merc's meat department started making its own, all-natural pork sausages in December, in part to better use the quality meats it had on hand.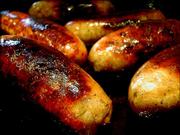 "Now we're selling about 70 pounds per week. The pork-and-apple is a breakout, and the Andouille and the sweet and hot Italians are in the top three. Toulouse is up there, too," King said.
"We're calling it our 'sausage program.' We've gone from two recipes to 12 in five months."
Creating sausage addicts
If The Merc is the newcomer to sausage making in this area, then the veteran purveyor certainly is Pyle Meat Co., of Eudora.
The family-owned business, which opened in 1959 and is still in the same location, has produced its natural, hickory-smoked skinless pork sausage (no casings) for decades.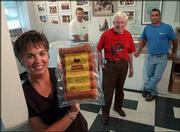 Many people are introduced to the company's smoked, Cajun, Polish and hot Polish sausages at Cardinals' football games at Eudora High School, where the booster club grills the links before and during the games.
Cliff Pash, owner of Lawrence-based Century Concessions, has been buying Pyle's sausage for the past 15 years to sell at events like Lawrence's Art in the Park.
In addition to its smokehouse sausage, Pyle Meat Co. makes pork breakfast sausage sold in bulk, patties and links. And there's an all-beef, fully-cooked summer sausage that has a casing you peel back before eating.
These products are sold at the company's retail store, which is attached to its production facility. The company offers other products too.
The building is undergoing a 1,500-square-foot expansion that will enable the business to start selling its sausage products in about 45 area grocery stores by early fall.
On Jan. 1, Pyle Meat Co. started opening the retail store on Saturdays, mainly due to requests by their sausage customers who couldn't make it to the store during the week.
Why are the sausages so popular?
These area businesses make a variety of sausage:Pyle Meat Co., 800 Main St. in Eudora, 542-2151.Kroeger's Country Meats, 505 Eisenhower Memorial Drive in Lecompton, 887-6091.Community Mercantile Co-op, 901 Iowa, 843-8544.
Sausage recipes
"My personal opinion is that it doesn't have a casing on it, and it's not greasy. When you grill it, it doesn't flame up. It's very lean," said Roberta Lehmann, the company's office manager and the daughter of Tom Pyle, who founded the business.
Pyle Meat Co. makes about 700 pounds of its smokehouse sausages per week. They are made from boneless pork shoulder, have 14 percent fat and contain no fillers.
Two of Lehmann's brothers, Tom Pyle Jr. and Pat Pyle, use dry spices, grind the meat twice and smoke the sausage over hickory sawdust or chips -- no liquid smoke, which can leave an aftertaste.
"We have people who are in 12-step programs; they're addicted to our sausage," Lehmann said.
Versatile ingredient
Robin Kofford, of Kroeger's Country Meats in Lecompton, stands behind her sausage.
The store has offered customers sausage for the past 20 years. Kofford, the daughter of store owners Gary and Linda Kroeger, has been making it herself since the early 1990s.
Kofford makes about 200 pounds of sausage every two weeks during the summer. She uses pork butts and no preservatives, freezing the product immediately.
"Customers really enjoy it. It's fresh, and you can tell it's a whole-muscle product. I cut the pork up myself, and that right there is the big factor," Kofford said.
The store sells sausage in a variety of flavors: country breakfast, country apple, sweet mild Italian, hot Italian, garlic, smoked Cajun, chorizo and bratwurst. All the link-style sausages have a collagen casing.
"Really, you can do anything you want to with our sausage: put it in any type of dish like casseroles, chili, stews, meatloaf, or eat it plain on a bun. That's one good thing about our products -- they are very versatile," she said.
The store's sausages have made a name for themselves.
"I have people driving from Kansas City. Oh goodness, people that live out of state and come to visit family will stock up on it. They know it's frozen, so they can travel with it. We also sell it at the Topeka Farmers Market. We've got a very wide clientele," Kofford said.
"And our Lawrence customers are excellent. They're filling up their freezers."
Copyright 2018 The Lawrence Journal-World. All rights reserved. This material may not be published, broadcast, rewritten or redistributed. We strive to uphold our values for every story published.