Concertgoers and nightclub crowds seem surprised when people offer them the opportunity to register to vote at their party venues.
But political advocate Katie Wolff said she had grown accustomed to it.
Wolff works as a coordinator for the Lawrence Rock the Vote campaign, which targets young adults. She also is legislative director of Kansas University's Student Legislative Awareness Board, which is working to increase voter awareness.
"We do get the initial 'do I need to register already?' type of questions," Wolff said Monday. "I think people are surprised because it's not something they plan on doing at a concert. Some people also think it's too early."
July 19 is the deadline to register to be eligible to vote in the Aug. 3 primary. The voter registration books will open again this fall for the November general election.
While the push may be on to get people to register, Marni Penrod, Douglas County deputy of elections, said Monday she hadn't seen that much growth in the voter rolls.
"We've seen a gradual increase as Lawrence increases in size," Penrod said. "Unfortunately, I wouldn't say there has been a big jump in registration. I don't think we could claim that."
Douglas County has 55,007 registered voters, Penrod said. That number is steady in comparison with the past couple of years, she said. In August 2003, Douglas County had 53,610 voters.
But Penrod said she was hopeful those numbers would increase more by the registration deadline. She said several people had come to her office to pick up registration cards.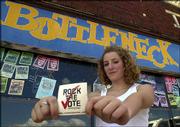 Wolff said grass-roots efforts had registered about 100 people in May. She said her group was expecting to register 75 people this month.
The Lawrence Rock the Vote campaign goes to concert venues such as The Bottleneck to register voters; participants also sought new voters last month at former President Clinton's lecture for the Dole Institute of Politics.
National, state efforts
Rock the Vote communications director Jay Strell said the organization had registered 300,000 new voters nationwide through its Web site and local street teams, such as the one in Lawrence. The goal is to register 1 million new voters.
Officials with the Kansas Democratic Party and the Kansas Republican Party said they also were conducting registration drives through city and county party affiliates.
Scott Poor, Kansas Republican Party executive director, said he had noticed more political activism on college campuses than in recent years but it remained to be seen what that will mean for voter turnout.
According to the Kansas secretary of the state, 851,966 Kansans voted in the 2002 general election and 1.6 million people were registered to vote. In August 2003, 1.54 million Kansans were registered voters.
Lawrence's Rock the Vote participants meet at 7 p.m. the first Tuesday of every month. Go to http://rtv.meetup.com/247 to learn more.
If there is an increase in registered voters, it wouldn't be known until after the July 19 registration deadline, said Jesse Borjon, a spokesman for the secretary of state.
Better awareness
There are several ways to register to vote:¢ Voters can visit one of these places:Audio-Reader Network, Baehr Audio-Reader Center, 1120 W. 11th St.Cottonwood Inc., 2801 W 31st St.Dillons (Treasurer Satellite), 3000 W. Sixth St.Douglas County Clerk's Office, 1100 Mass.Douglas County Health Department, 200 Maine, Suite BECKAN, 1600 Haskell Ave.Independence Inc., 2001 Haskell Ave.KinderCare Learning Center, 2333 Crestline DriveLawrence City Clerk, 6 E. Sixth St.Social and Rehabilitation Services Office, 1901 Del.Treasurer South Satellite, 2108 W. 27th St., Suite I.Veterans Affairs Office, 745 Vt.¢ Request a registration form be sent by calling 832-5147.¢ Go online to www.douglas-county.com/Clerk/voteapp1.asp and print out a form, fill it out and mail it to the Douglas County Clerk's Office.
Wolff said she thought more people, especially college students, had become interested in participating in the democratic process.
"I think there's an increase in awareness that people need to be politically active and not just in the community," Wolff said. "You can volunteer in a homeless shelter and that's good. But what people realize is, that won't change or impact what happens in Washington, D.C."
Strell said it was clear that 18- to 30-year-old voters were going to be key in this year's presidential election. President Bush and Democrat John Kerry are making efforts to gain votes from the younger crowd, Strell said.
"They're talking about putting the Bush daughters on the campaign trail," Strell said. "Clearly, they wouldn't be doing that if they didn't think the 18- to 30 year-olds are a critical voting block in this election."
Even World Wrestling Entertainment stars are trying to appeal to the age group with its campaign "Smackdown your Vote."
A group of WWE wrestlers hit Topeka in late April and spoke to high school students. The event went "fairly well," Borjon said.
"We registered about 80 students and had great attendance at the event," Borjon said. "It seemed to be well-received."
Copyright 2018 The Lawrence Journal-World. All rights reserved. This material may not be published, broadcast, rewritten or redistributed. We strive to uphold our values for every story published.