The last-place Eudora Cardinals started strong against the second-place Panthers on June 14 at 4-H Cowser Field, scoring four runs in the first inning.
The Panthers quickly showed why they were higher in the standings, though, taking a lead in the second inning.
They scored in every other inning, including seven runs in the fourth inning, and won the 11-U Douglas County Amateur Baseball Assn. game against the Cardinals, 15-10.
Panthers catcher Matt Cole contributed to the win with a home run and two doubles. Hawley Montgomery led the Cardinals offense with three singles and three runs scored.
Cardinals coach Mark Chrislip had a positive outlook on the team's performance this season despite five-run loss.
"We're getting better," he said.
The Cardinals wrap up league play with a game against the Stallions at 6 p.m. Friday at 4-H Cowser Field.
The Panthers will end their regular season at 6:45 p.m. Saturday at 4-H Cowser Field against the Hawks.
Pirates 6, Warriors 5
The Pirates and Warriors battled back and forth before the second-place Pirates eked out a 6-5 victory June 14 at 4-H Middle Field.
The Pirates, in second place in the DCABA 9-U league, took a 3-1 lead after the first inning.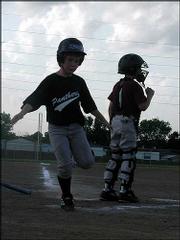 The third-place Warriors tied the game in the third, but the Pirates responded with two runs in the fourth inning and another in the fifth.
The Warriors scored one final run in the sixth inning, but it was too little, too late.
Jordan Trajkovski hit a single and stole two bases for the Pirates (9-4).
Cole Moreano hit a single and a double and had a stolen base for the winning team.
Drew Green led the Warriors with two doubles, two stolen bases and three runs scored. Patrick Friedrichsen had a single, a double and two stolen bases.
The Pirates finish the regular season league play at 4:30 p.m. Thursday against the Giants at 4-H Middle Field.
The Warriors will end their season against the Lancers at 6 p.m. Thursday at 4-H Middle Field.
Copyright 2018 The Lawrence Journal-World. All rights reserved. This material may not be published, broadcast, rewritten or redistributed. We strive to uphold our values for every story published.