Southampton, N.Y. — Phil Mickelson is a changed man, even if the ending looked all too familiar.
The lasting image of the 104th U.S. Open is not the six pressure-packed putts Retief Goosen made down the stretch to win his second major, but Lefty missing two short putts on the 71st hole that cost him a chance to go to Scotland next month chasing the third leg of the Grand Slam.
The first miss from five feet knocked him out of the lead. The second miss from four feet sealed his fate.
Same ol' Phil, right?
Not anymore. This was merely a hiccup, not a trend.
The biggest difference between Sunday at Shinnecock Hills and Sunday at so many other majors is that no one expected Mickelson to mess it up.
This time, it was shocking.
"I thought it was going to come down to the 18th hole," Goosen said. "I didn't really expect Phil to make a double (bogey) at 17."
Mickelson's victory in the Masters made this U.S. Open look more like a close call than a blown opportunity.
"I've played what I think is very good golf for me," Mickelson said after his 71 left him two shots behind Goosen. "I feel like I'm onto good things. I feel like my preparation is better. I feel like my overall game is a better fit for this very tough test of golf."
Jack Nicklaus saw it coming late last year in the Presidents Cup, when Mickelson became the first American to lose all five matches. Lefty kept his spirits up and worked harder than ever.
Nicklaus had a strong premonition that Lefty would be wearing a green jacket.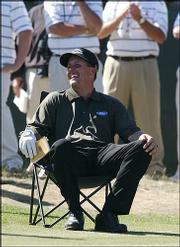 He also had a bad feeling watching Mickelson on the 17th green Sunday at Shinnecock Hills, especially after Goosen made a 12-foot birdie on the 16th hole to tie him for the lead.
"Here you are standing on 17, needing to make a putt to save par, and Retief birdies," Nicklaus said after watching the U.S. Open from his home in Florida.
"It made Phil's putt a lot longer," he said. "I've had it happen to me many times. You miss that first one, and suddenly you get frozen over the second. Because of what's going through your mind at the time, it's difficult to prepare yourself for the second putt. It's a shame for Phil, because he played a wonderful U.S. Open."
Nicklaus didn't miss many putts during his record run of 18 professional majors. But he missed his share, which explains why he has 19 runner-up finishes in the majors.
Mickelson now has four second-place finishes to go with his Masters victory, a record that now reads like a compliment instead of a failure.
Part of that is because he no longer has to explain why he hasn't won a major.
"As opposed to second this week being a negative, I look at it as a positive," Mickelson said. "Because I played such difficult conditions well and came so close and was able to shoot a good round on a very difficult Sunday."
Mickelson never has broken par in the final round of a U.S. Open, but this ought to count as one.
The final round was so difficult -- in part because of the stubborn setup the USGA used to protect its precious par -- that 28 players failed to break 80. Among them was Ernie Els, playing in the final group.
The best score in the final round was an even-par 70 by Robert Allenby.
Mickelson and Goosen each shot 71 playing in the final two groups with the pressure of winning a major along for the ride.
"Some of the hardest scoring rounds we have in the U.S. Open happened to be the three events that I finished second -- in '99, '04 and '02," Mickelson said. "And I think that I take a lot away from that. That tells me I can play under some very adverse and difficult conditions.
"And I'll enter these tournaments now with a lot of confidence."
The next major might be the real test.
Mickelson never has finished in the top 10 at a British Open. Then again, he's never had so many shots in his bag.
A controlled fade off the tee has helped him keep the ball out of the thick grass. An understanding that length isn't everything has kept him from reaching for the driver on every hole.
Mickelson also has worked on his trajectory. He decided on a knockdown shot into the 13th green, which he left some 10 feet below the hole for a birdie that started his run of three birdies in four holes.
More than anything, his strength is preparation and confidence.
Mickelson is No. 1 on the PGA Tour money list, and with Vijay Singh starting to stall and Tiger Woods still searching for consistency, Mickelson is the leading candidate for player of the year halfway through the season.
Still, not many will forget that three-putt from 5 feet that kept him from winning his second major. Mickelson said the same thing he did after Bethpage -- "It was a fun week" -- but the disappointment was obvious.
Nonetheless, Mickelson left Long Island with the same attitude he brought to the U.S. Open: He can't wait for the next major.
Copyright 2018 The Associated Press. All rights reserved. This material may not be published, broadcast, rewritten or redistributed. We strive to uphold our values for every story published.