Southampton, N.Y. — Phil Mickelson played in 46 major championships before he finally figured out how to win one.
Suddenly, he's an expert on the subject.
Mickelson shot a low-stress 66 on Friday at Shinnecock Hills to grab a share of the lead halfway through the 104th U.S. Open. He was at 6-under-par 134 after 36 holes, tied with Japan's Shigeki Maruyama.
"I can't wait for the upcoming majors now," Mickelson said, "because I feel like I'm on to something to play well in the big tournaments."
Until this year, Mickelson played majors with the mindset of a riverboat gambler. When the smart money was on 2-iron off the tee, he'd smash driver into the cabbage. When the percentage play was to the middle of the green, he'd go flagstick-hunting and shoot himself in the foot.
But a different Mickelson won the Masters in April and has made a single bogey after two carefully plotted trips around Shinnecock. He has learned that in the majors, control off the tee is the ace of spades and par usually beats the house.
"The style of golf needed in major championships is significantly different, I feel, than the one needed in a regular (PGA) Tour event, which seems to be more attack, attack, attack," Mickelson said.
Well, duh. That's what everybody has been telling Lefty since he was knee-high to a lob wedge. At 34, he's finally bought in.
"After winning at Augusta, I feel like the preparation I had, the style of shots I have worked on, seem to be allowing me to play and score well in majors," Mickelson said. "Now I look forward to them."
Has his high-octane game become -- dare we say it -- boring?
"Yes," he said with a grin. "But the outcome is OK."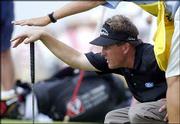 Shinnecock Hills was rendered defenseless by a second consecutive calm day, unusual for eastern Long Island, and surrendered 21 sub-par scores. Among them were 66s by Mickelson, Fred Funk, Retief Goosen, Tim Herron and Stephen Ames.
Mickelson and Maruyama (68) took a one-stroke lead over Jeff Maggert into the third round today. Maggert shot a 67 and was at 135. Funk and Goosen, the 2001 U.S. Open champion, were tied for fourth at 136.
Hot on their heels were two-time U.S. Open champion Ernie Els and Vijay Singh. Els, ranked No. 2 in the world, shot a 67 and was tied for sixth at 137 with Angel Cabrera of Argentina.
Els, runner-up to Mickelson in the Masters, still is trying to shake the memory of Mickelson's birdie putt on the 72nd hole that prevented a playoff.
"I got the pretty bad knife," he said. "He did what he had to do. I still feel pretty good about my play there. It's kind of difficult to take that. It was tough, but I'm fine with it. I've finished second quite a few times."
Singh, the PGA Tour's leading money-winner, shot a 70 and was tied for eighth place with Corey Pavin, who won the 1995 U.S. Open at Shinnecock.
"I'm playing well," Singh said. "I'm hitting the ball nicely. I just need to make a few putts here and there and hit more fairways."
Lurking seven shots behind the leaders was Tiger Woods, who shot a 69 and was tied for 18th place at 1-over 141.
"On this golf course, it's so difficult that you know the guys aren't going to be shooting extremely low rounds on the weekend," Woods said. "You've got to keep hanging in there and keep moving forward. If I keep doing that, I'll be all right."
Maruyama actually took the lead when he birdied the eighth hole (his 17th) to get to 7-under for the championship. But he bogeyed No. 9 and had to settle for the tie with Mickelson.
"There's not many chances to be a leader at the U.S. Open," Maruyama said through his interpreter. "I'm very excited. I'm looking forward to playing with Phil Mickelson. He must be very confident after winning the Masters, so I will try to catch him."
The forecast called for the wind to pick up today, which will make things interesting.
"There's a long way to go," Els said. "There's weather issues. The wind starts blowing and you've got to hang on. There's so many things that can still happen.
"We've had two beautiful days and 6-under is leading. If the wind blows, with the greens getting firmer, anything can happen. Anything can win. But you've got to get the ball in the hole, if it's good, bad or ugly."
Copyright 2018 The Lawrence Journal-World. All rights reserved. This material may not be published, broadcast, rewritten or redistributed. We strive to uphold our values for every story published.