In helping establish a future Baldwin business park, Douglas County commissioners say they want to follow the same path that led to Lawrence's East Hills Business Park.
Only with more room to maneuver.
Commissioners say that if they end up spending $273,000 for 43 acres at the edge of Baldwin -- a move they endorsed informally three weeks ago -- they would work to recoup all of the county's costs when the prospective park's lots end up being sold for development.
The move would be a shift from the East Hills model, under which the county bought 300 acres southeast of Lawrence in the early 1980s and set it aside for development. The purchase price worked out to $3,000 an acre, the same price charged today for East Hills' remaining lots.
The East Hills arrangement left the county responsible for paying all taxes on lots awaiting development -- a tab that has run $200,000 to $300,000 thus far and will be expected to add at least $20,000 a year until the park's remaining lots are sold.
In Baldwin, commissioners say, county taxpayers should be able to recoup not only the initial cost of the 43 acres but also the cost of holding onto the land until companies move in. That would mean that sale prices for lots could escalate.
"At the very least, it should remain a break-even deal for the county," Commissioner Bob Johnson said.
County and Baldwin officials are working on an deal to develop a new business park at the northeast corner of U.S. Highway 56 and East 1600 Road. The site is across the highway from an elementary school.
Decisions to boost lot prices must be carefully considered, Johnson said, because the county shouldn't price itself out of the market.
While the county should break even, he said, officials shouldn't lose sight of the ultimate goal: attracting new businesses to pump jobs and tax dollars into the community.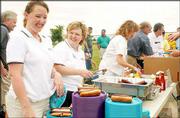 Craig Weinaug, county administrator, said that an agreement between the commission and Baldwin City Council to develop the park could be reached within a year.
Officials estimate that the business park could provide up to 400 jobs.
Members of the Baldwin City Council agreed earlier this month to pay Mildred Allen $10,500 to reserve the land for another year, paving the way for the county to buy the land for a business park. The option is the city's second, and the money can be applied toward the land's purchase price.
The city also has an agreement that could expand the park to 220 acres.
At East Hills, 250 of 300 acres have been developed with businesses that employ a total of 2,500 workers.
Copyright 2018 The Lawrence Journal-World. All rights reserved. This material may not be published, broadcast, rewritten or redistributed. We strive to uphold our values for every story published.