Miami — Carl Pavano often is overshadowed in Florida's rotation.
He's not the World Series MVP like Josh Beckett. He's not the NL Rookie of the Year like Dontrelle Willis. He doesn't have a no-hitter like A.J. Burnett. And he doesn't throw nearly as hard as Brad Penny.
But he's more consistent than any of them -- something everyone is starting to notice.
Pavano pitched a three-hitter Wednesday night, giving the Florida Marlins a 4-0 victory over the Chicago White Sox.
Pavano (7-2) won his third consecutive start and picked up his second career shutout.
"Right now, he's at the top of the list," Marlins manager Jack McKeon said. "He's the unsung hero. He's unheralded. This guy is overlooked sometimes, but since the middle of last season, he's been right there with the best of them."
In his last 10 starts, Pavano has gone at least seven innings and allowed three or fewer runs eight times.
"We know we're going to get a quality start out of him every time," teammate Juan Pierre said. "Even his bad outings, he only gives up three or four runs. He slips through the weeds here but has been very productive."
Pavano mixed a live fastball with an effective slider to keep the White Sox -- who scored 55 runs in the previous six games -- off balance. He even ended Carlos Lee's hitting streak at 28 games. Lee's streak was a team record and the longest in the majors this season.
"Every streak is going to end," manager Ozzie Guillen said. "It was a joy to watch. He helped us win a lot of games during that time. Maybe he'll go back out there and start a new one."
Cardinals 6, Athletics 2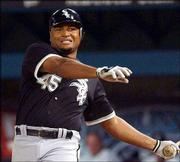 St. Louis -- Jason Marquis pitched seven sharp innings and hit a two-run double.
Jim Edmonds and Reggie Sanders homered for the Cardinals, who have won 12 of 15 to move a season-best 11 games above .500.
Marquis (6-4) held the Athletics to two runs on five hits in seven innings. Before the homers, he retired 14 of 15 batters, and he won his third straight outing.
Twins 5, Expos 4, 11 inn.
Montreal -- Luis Rivas hit a disputed home run in the 11th inning for Minnesota. His drive off Jeremy Fikac (0-2) over the wall in the left-field corner was called fair by third base umpire Brian O'Nora. However, television replays clearly showed the ball sailed to the left of the net that serves as a foul pole at Olympic Stadium and should have been ruled foul.
Brewers 4, Mariners 1
Milwaukee -- Doug Davis pitched seven solid innings, and pinch-hitter Bill Hall hit a two-run homer.
Davis (6-5) gave up Pat Borders' first homer of the year in the third inning and not much more. The right-hander scattered five hits and allowed one walk while striking out a season-high seven.
Seattle rookie right-hander Clint Nageotte (1-2) pitched five innings, giving up two runs on three hits and three walks while striking out five. He threw 79 pitches, but was removed before the bottom of the sixth because of a cramp in his pitching hand.
Giants 10, Blue Jays 2
San Francisco -- Pedro Feliz and A.J. Pierzynski each hit two-run homers, and Kirk Rueter pitched seven strong innings in the San Francisco Giants' third straight win over Toronto.
Rueter (3-6) didn't allow an earned run and also drove in a run with a fifth-inning single, his fourth hit of the year and second RBI. Rueter had lost his last two starts, but got off to a strong start in his 14th outing of the season, retiring the first six Blue Jays batters.
Reds 7, Rangers 4
Cincinnati -- Ken Griffey, Jr. remained stuck at 499 homers, but everything else went well for Cincinnati . Tim Hummel had three hits, and Ryan Freel's double broke an eighth-inning tie and set up a victory over the Texas Rangers.
Freel's bases-loaded double snapped a 3-all tie in the eighth, and Barry Larkin followed with a two-run single as the Rangers' bullpen had a second straight meltdown.
Indians 9, Mets 1
New York -- C.C. Sabathia allowed one run and six hits in eight impressive innings, leading Cleveland.
Sabathia (4-3) shut down the Mets a night after they had 14 hits in a 7-2 win after firing batting coach Denny Walling. He struck out three and walked one, helping the Indians win for the ninth time in 12 games -- and move within a game of .500 at 31-32.
Devil Rays 9, Padres 6
San Diego -- Tampa Bay set a franchise record with its seventh straight win, beating the San Diego Padres behind leadoff batter Carl Crawford, who went 4-for-5 with three runs and two RBIs.
Pirates 5, Angels 3
Pittsburgh -- Daryle Ward's three-run homer finished off Pittsburgh's five-run fifth inning, and the Pirates avoided matching their longest losing streak in 36 years by beating Anaheim.
Despite falling behind 2-0, the Pirates averted their first 10-game losing streak since July 6-15, 1968, or two ballparks ago.
Yankees 9, D'backs 4
Phoenix -- Bernie Williams, Alex Rodriguez and Derek Jeter homered, and the New York Yankees won for the 18th time in 21 games.
Williams hit his first leadoff home run in nine years, and Rodriguez reached base safely for the 52nd consecutive game -- 15 more than his previous career best. The streak is the longest in a single season for New York since Jeter had a 53-game run in 1999.
Rockies 7, Red Sox 6
Denver -- Vinny Castilla drove in three runs, and Jason Jennings worked out of two bases-loaded jams for his fourth win in five starts. Closer Shawn Chacon allowed a pair of RBI singles in the ninth inning before retiring pinch-hitter David McCarty with runners at second and third for his 12th save in 17 chances.
Dodgers 6, Orioles 3
Los Angeles -- Odalis Perez got his second win in nine starts, and Jayson Werth hit a three-run homer.
Perez struck out eight and walked two in seven innings. He gave up five hits, including Javy Lopez's ninth home run on the first pitch of the seventh.
Eric Gagne got four outs for his 15th save and major-league-record 78th in a row.
Matt Riley (1-2) allowed five runs on seven hits in four innings. He struck out five and suffered the loss.
Copyright 2018 The Associated Press. All rights reserved. This material may not be published, broadcast, rewritten or redistributed. We strive to uphold our values for every story published.