Washington — The panel investigating the Sept. 11, 2001, attacks disputed Wednesday one of President Bush's key reasons for invading Iraq, saying there's "no credible evidence" that al-Qaida and Saddam Hussein were in league against the United States.
The bipartisan commission's findings substantiated earlier assessments by the CIA, other U.S. intelligence agencies, former chief U.S. weapons inspector David Kay and U.N. terrorism experts.
In making its case for war, Bush and his senior advisers asserted that Saddam maintained close ties with al-Qaida and had to be ousted before he armed the Islamic extremist network with chemical or biological weapons for an attack on America.
Vice President Dick Cheney was the most ardent promoter of such a scenario, insisting as late as Monday in a speech in Florida that Iraq "had long-established ties with al-Qaida."
Invasion advocates outside the government were even more categorical, contending that Iraq was complicit in the Sept. 11 attacks.
But the commission, which was given extensive access to U.S. intelligence reports and other information, said, "We have no credible evidence that Iraq and al-Qaida cooperated on attacks against the United States."
The commission also said that two senior operatives of al-Qaida leader Osama bin Laden who are now in U.S. custody "have adamantly denied that any ties existed between" al-Qaida and Saddam's regime.
It also said that a purported meeting in Prague between a senior Iraqi intelligence official and Sept. 11 hijacker Mohamed Atta never took place.
The panel said that while bin Laden was living in Sudan in the early 1990s, Sudanese officials arranged contacts between al-Qaida and Iraqi operatives, and that a senior Iraqi intelligence official met bin Laden in 1994 in the northern African nation.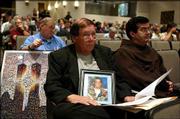 Iraq, however, apparently didn't respond to bin Laden's requests for training camps and weapons, it said.
Contacts continued after bin Laden settled in Afghanistan in 1996, "but they do not appear to have resulted in a collaborative relationship," said the panel.
Sean McCormack, a spokesman for the National Security Council, said the administration stood by its charges about Iraq and al-Qaida.
Copyright 2018 The Lawrence Journal-World. All rights reserved. This material may not be published, broadcast, rewritten or redistributed. We strive to uphold our values for every story published.