Kerry Earnhardt smiles when he recalls the days he worked as a service writer from 1992 through 1998 at his father's Chevrolet dealership in Newton, N.C.
"I liked to help customers," said Earnhardt, eldest son of NASCAR legend Dale Earnhardt and half-brother to current Nextel Cup points leader Dale Jr. "I enjoyed watching people pick up their cars. I was glad to see them happy when they drove away."
This week, Earnhardt, 34, will get a little help himself when he attempts to qualify for the DHL 400, which is scheduled for Father's Day at Michigan International Speedway in Brooklyn.
Earnhardt will drive for Richard Childress, team owner and best friend of his father Dale, who was killed at Daytona in 2001.
Earnhardt will be making his third start of the season for Childress. He'll be at the wheel of the No. 33 Bass Pro Shops Chevrolet, which will closely mirror the gold No. 3 car that Dale Earnhardt drove for Childress in the 1998 Winston race at Lowe's Motor Speedway.
Earnhardt knows Childress has provided him a chance to relaunch his career, which, until now, has been a far cry from his late father's, a seven-time Winston Cup champion, and Junior's, who is NASCAR's new favorite son.
"Richard has been great to me," said Earnhardt, who looks remarkably like his dad with his bushy mustache and piercing eyes. "He gets on the radio with me during a race. He'll tell me to stay on the bottom, make a pass down low. Richard has been very supportive."
Earnhardt never has dodged hard work. Married early and divorced, he once toiled in a textile mill to support his young children, putting any thoughts of a full-time racing career on hold. Dale didn't go out and buy either him or Dale Jr. the best equipment. He made them earn it.
"Dad taught me the values of life," Earnhardt said. "He taught me to look after my family, stick with my obligations, put food on the table. I think he's proud of all of us."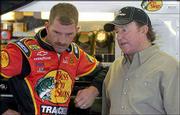 In 2000, Earnhardt thought his time as a racer had come. After starting a handful of times in the Busch Grand National Series in 1998 and 1999, he qualified along with dad and Junior for the Pepsi 400 Winston Cup race in August at Michigan.
Driving the No. 71 Team Realtree Chevy, Earnhardt started 27th but crashed the Dave Marcis-owned car after three laps to finish 43rd.
"I wrecked it," said Earnhardt, who didn't race again in 2000. "Then Dad died in 2001 and things, how can I put it, fell apart."
Earnhardt returned to the Busch series in 2002 and 2003, running a total of 55 races with only two top-five finishes. In the process, he crashed a lot, losing credibility with some of his fellow drivers.
However, a strong effort for Childress in the Aaron's 499 at Talladega (Ala.) Superspeedway in April, when a car took him out while he was running 12th, has Earnhardt believing again that he can compete with the best.
"I think I gained some respect back at Talladega," Earnhardt said. "I think the top drivers are comfortable with me running out there right now."
Earnhardt will start three more Cup races for Childress after Michigan. He'll compete in the Pepsi 400 on July 3 at Daytona, the EA Sports 500 on Oct. 3 at Talladega, and the Bass Pro Shops MBNA 500 on Oct. 31 at Atlanta.
Childress is glad to have an Earnhardt riding again in one of his cars.
"I don't think Kerry has ever had the opportunities or the best equipment," said Childress, who was devastated when Dale was killed. "I think he has a lot of ability. He just needs some more seat time."
Childress feels fortunate he can help Earnhardt, because he knows both Dale Jr. and Kerry also were shattered at the loss of their father.
"Kerry's plans to drive for Dale were cut short by his dad's death," Childress said. "I think of Dale every day and every night, so I'm happy I can help."
At Michigan, Earnhardt would like to finish the race for Dale, particularly because the race falls on Father's Day. But he also wants to be competitive, something ingrained in the Earnhardt family.
"I'm not going to ride around in the back," Earnhardt said. "That's not me."
Copyright 2018 The Lawrence Journal-World. All rights reserved. This material may not be published, broadcast, rewritten or redistributed. We strive to uphold our values for every story published.