Teams in the Lawrence Phenix organization have played in weekend softball tournaments throughout the Midwest this summer with a decisive goal in mind -- qualifying for national tournaments.
This weekend, many of the Phenix teams will get a rare chance to play at home, this time in the AFA national qualifying tournament at Clinton Lake Sports Complex.
"I tell the girls when they come to play for the Phenix, this is an opportunity to play, but you're not going to play in town," said 10-U coach Kevin Waite.
This season teams have traveled to towns such as Colorado Springs, Colo.; Adair, Okla.; Wellington, and Wichita. Travel allows teams to balance playing up to challenges and playing where they will have success. Four of the nine teams within the organization have already qualified for their age group's national tournament.
Six years ago, competitive fast-pitch teams from around Lawrence consolidated to form the Lawrence Girls Fast Pitch Assn.'s Phenix softball team. Members of the Phenix have found that although competitive fast-pitch softball is the foundation that ties the nine Lawrence teams together, the Phenix success goes beyond winning and earning trophies.
Although there's not much time for direct interaction between teams during the season, the connection between the players can be found through support of common goals, and each other.
When needed, girls help other Phenix teams by going to tournaments when a team needs more players, but on a deeper level the girls relate to one another as they face challenges they normally would not have to face.
This indirect yet deep connection between teams is kind of like what a softball player learns about life off the field by playing the game.
"There is so much that we do that is not about softball, or even physical," said Phenix president Wayne Pearse. "Girls that have grown up playing competitive softball have already dealt with things normal kids don't deal with. It makes them better as adults."
He said guidance from coaches like Gary Tanner is what makes the Phenix organization unique. Pearse's daughter Lisa is a pitcher on Tanner's 16-U B team.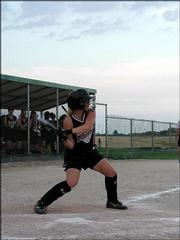 "He can yell at them and then they will turn around, hug him, and say 'Thanks, I needed that,'" Pearse said.
The coaches within the Phenix teams come from a variety of backgrounds. Courtney Taulbert, a 2003 Lawrence High School graduate, helps Tanner. She provides a perspective that is easily related to by the girls.
Randy Fyler, who coached Bonnie Mills, creator of theLGFPA developmental league, has been coaching Lawrence fast-pitch since the early 1980s, in addition to coaching in Wichita and at Free State High School. Waite previously coached high school football before starting a 10-U Phenix team that he has been coaching for six years.
Waite has coached his daughters Kasey, 14, and Kylie, 11, but they now play on other teams within the Phenix organization. He has stayed with the 10-U team despite not having a daughter on the team to give more girls an opportunity to play.
Competitive softball is not only a time commitment to players and their families, but with travel and equipment, it can be rather costly. The Phenix's goal is to play the best competition they can find. The next criterion is to do so without spending money.
In order to alleviate the financial burden, the organization participates in fund-raising events such as selling trash bags or food products. However, Pearse is leading the organization in making changes toward a different direction of fund raising. The Phenix organization recently filed for 501-C3 not-for-profit status, making donations to the organization tax-deductible.
As the Phenix continues to make a name for Lawrence in competitive softball, instilling the sense of community is important to Pearse. Pearse wants to show the girls that they can help others the same way people step up to help them.
The Phenix organization has tried to provide something for everyone involved.
For the older girls, who play for their area high schools, playing a majority of their game in the summertime affords them a luxury that high school softball lacks. Before the season begins, off-season practices and the camaraderie gained from playing together for years, enable girls on the team to have time to gel. Whereas, high school teams have two weeks to put a team together, and the season is over after two months.
Also, there is a new option for girls seeking the competitive nature of fast-pitch, without as much of a time commitment. One recent addition to the LGFPA, the girls' developmental league allows girls to get a taste of competitive fast-pitch softball in Lawrence without all the travel. The developmental league, a joint effort of the Lawrence Parks and Recreation and the Phenix organization, serves as the middle ground for the instructional Parks and Recreation league and the ultra-competitive Phenix organization.
Epperson said he would like to see the developmental league enable girls to have an opportunity to get involved in competitive fast-pitch softball.
Pearse said the girls who he has seen play competitive softball are typically the girls whose minds are always active and busy. He said it is important to provide children with positive opportunities like sports, in order to prevent them from seeking out negative ones.
Copyright 2018 The Lawrence Journal-World. All rights reserved. This material may not be published, broadcast, rewritten or redistributed. We strive to uphold our values for every story published.