If you're the arty type and looking for something fun and new to entertain yourself, take a look at these new projects:
Magic Nuudles
These cornstarch building blocks that look like Styrofoam have long been a favorite in classrooms. The company's newest offering is for young gardeners who don't want to wait for blooms: the Nuudle & Grow Kits. Build "flowers" with the nuudles in peat pots that are included, and set them outside. The cornstarch blocks will disintegrate in the rain, and along with the peat they will germinate real flowers to grow in their place. Herb and vegetable pots also are available. Visit www.magicnuudles.com for details.
Faber Castell's Creativity for Kids
Since flip-flops are so popular, Faber Castell's Creativity for Kids line offers a craft kit in which kids can paint their own "flip-flop" trinket boxes. Line it with faux fur, then decorate with fabric flowers, rhinestones or metallic paint.
Another "huge" thing with kids is fleece, the company says. New kits allow girls to make their own soft, cuddly fleece pillows, with flower and cheetah patterns. No sewing necessary -- just cut the fringe and tie the pieces together from either side of a pillow form. Girls can then sew pompoms and beads for decoration.
Also worth checking out: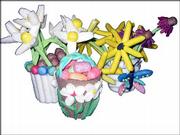 The Dimensions Co. has introduced a new line of scrapbook kits for girls 8-12. The line includes scrapbook binders, theme kits such as "my family" or "my school," stickers, gel pens, and "thingamajigs" for embellishment. The Paper Fun Packs provide background designs for photos, lines for writing, and puzzles and games. See www.MEetc.com for more details.
"Mess Free" erasable markers, crayons and pencils. They come right off of paper, tables, walls, you name it.
Zoogles. Crayola offers 27 tiny characters, made from plaster of paris, which can be decorated with markers, paints and glitter glue. Each has its own name and story about where it came from. See www. crayola.com.
Chalk-It. Call it safe graffiti. The DayGlo company offers washable spray chalk that works on any outdoor surface -- cement, paper, grass, glass, metal, sand or snow. Decorate a car for the big game, draw a baseball diamond on the back yard, paint clothes on the snowman. See a href="http://www.dayglo.com" target="_blank">www.dayglo.com.
Color Wonders finger paints. Your parents needn't panic: The paint, which has the consistency of lip balm, only shows its color on special paper, sold separately. Otherwise, it appears clear on any other surface and can be easily wiped off.
Copyright 2018 The Lawrence Journal-World. All rights reserved. This material may not be published, broadcast, rewritten or redistributed. We strive to uphold our values for every story published.