Kansas City, Mo. — Zack Greinke was too scared to speak to Tom Glavine, so the kid just went out and tried to outpitch his longtime idol.
It didn't work out for Kansas City's rookie sensation.
Glavine took over the major league earned-run average lead and checked Kansas City on four hits through 72/3 innings Sunday, leading the New York Mets past the Kansas City Royals, 5-2.
Glavine's performance stopped the Mets' five-game losing streak and reminded Greinke, who came in with a 1.73 ERA in his first four major-league starts, why he always has admired the two-time NL Cy Young Award winner.
"He's been one of my top favorite players my whole life," said the 20-year-old Greinke, the youngest player in the major leagues. "He knows how to pitch. That's what I want to do some day, be like him. He's amazing."
Glavine (7-3) lowered his ERA to 2.03, moving ahead of Houston's Roger Clemens (2.08). Mike Piazza hit a two-run home run as the Mets completed a 1-5 trip to Minnesota and Kansas City.
The day after getting chewed out by manager Art Howe, the Mets played much better, although they did commit three errors, two on bad throws by shortstop Kaz Matsui.
"We made some things happen," Howe said. "We moved some people around, and we got some two-out hits. But we had the right guy on the mound for us. It was an outstanding performance, to say the least."
Glavine allowed two runs -- none earned -- in 72/3 innings, striking out five and walking one.
"I didn't feel like my location was as good as it was my last couple of starts," said Glavine, who never had faced the Royals. "But I tried to keep battling and keep making pitches and not give in to the count. Once we got the lead, it made things a lot easier."
Kansas City center fielder Carlos Beltran bruised his left knee crashing into the center-field wall trying to catch Piazza's homer. The Royals said he probably could play Tuesday.
Greinke (1-2) allowed five runs and five hits in seven innings. He allowed only five runs in 26 innings over his first four starts, but Sunday's outing raised his ERA to 2.73.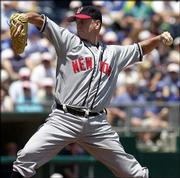 "I was very impressed with him," Glavine said. "For a 20-year-old kid, he's got great mound presence. He's got good stuff. I like the way he went about his business."
Told that Glavine had been complimentary, Greinke smiled broadly.
"I'd be scared to talk to him," Greinke said. "I don't know if he wants to be bothered, so I don't want to bother him. It makes me feel good knowing he knew who I was."
New York went ahead in the fourth when Matsui singled leading off and Piazza hit his 14th homer.
Eric Valent hit an RBI single in the fifth, and the Mets added two runs in the seventh when Mike Cameron hit an RBI double, stole third and scored on Jason Phillips' sacrifice fly.
Desi Relaford hit a run-scoring grounder in the seventh that scored Joe Randa, who singled and advanced on a throwing error by third baseman Todd Zeile.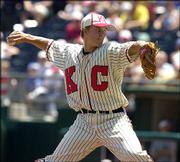 Ken Harvey, who began the day with an AL-leading .360 average, chased Glavine with an RBI double with two outs in the eighth. Harvey was 2-for-13 in the series.
Braden Looper pitched the ninth for his 12th save in 14 chances, completing the five-hitter.
Notes: 1B/DH Mike Sweeney says he is not interested in being traded. ... The Mets wore the uniform of the 1944 New York Cubans and the Royals the uniforms of the 1945 Kansas City Monarchs in a salute to the Negro leagues. ... Relaford snapped an 0-for-23 skid with his single in the second. ... New York OF Shane Spencer missed his third straight start because of a sore shoulder. ... The Mets are hitting .102 (6-for-59) with the bases loaded.
Copyright 2018 The Associated Press. All rights reserved. This material may not be published, broadcast, rewritten or redistributed. We strive to uphold our values for every story published.