Riyadh, Saudi Arabia — With the kidnapping of an American and threats to inflict on him the same degrading punishments seen at Iraq's U.S.-run Abu Ghraib prison, suspected al-Qaida terrorists appear to have unleashed a new tactic in their violent drive against Saudi Arabia's rulers.
Saudi authorities searched Sunday for Paul M. Johnson Jr., an American who was apparently abducted by militants who also claimed responsibility for gunning down another American in Riyadh, the day before.
It was the third killing of a Westerner in the Saudi capital in a week, part of a stepped up campaign aimed at driving out foreigners and sabotaging the oil sector, key to the Saudi economy and basis of the rule by the kingdom's royal family.
The U.S. Embassy warned that the attacks appeared to follow extensive surveillance of the two Americans slain over the past week. Kenneth Scroggs was shot in the back as he parked in the garage at his home on Saturday. Last Tuesday, Robert Jacobs was also killed in his parking garage.
The killings "involved extensive planning and preparation," a U.S. Embassy warden message said. "Often, this pre-attack surveillance can be detected."
Al-Qaida, led by Saudi-born Osama bin Laden, often rails against Saudi Arabia's rulers for their close links to the United States.
"The Saudis know that this is an enemy that is coming after them. The killing of foreigners ... is a direct attack against the Saudi regime," U.S. Secretary of State Colin Powell said on ABC's "This Week."
Powell said Saudi leaders were mobilizing all resources against militants but added, "I think that there is more that they can do."
A purported al-Qaida statement, posted late Saturday on an Islamic Web site, threatened to treat Johnson, the abducted American, as U.S. troops treated Iraqi prisoners -- a reference to sexual and other abuses at Abu Ghraib prison in Iraq.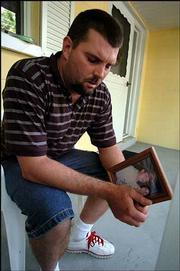 It showed Johnson's passport and a Lockheed Martin business card bearing his name. The passport said Johnson was born in New Jersey. His son Paul Johnson III said his father moved to the kingdom in 1983 to work for Lockheed Martin.
The al-Qaida statement said Johnson was one of four experts in Saudi Arabia working on developing Apache attack helicopter systems.
Meanwhile, several Islamic Web sites were carrying links to a videotape -- also purportedly from al-Qaida -- that claims to show last Tuesday's killing of Jacobs, 62, of Murphysboro, Ill., who worked for U.S. defense contractor Vinnell Corp.
The video, less than two minutes long, does not show any faces. It begins with men running in a garage and a voice yelling in English, "No, no, please!" A shot is fired, and the body of what appears to be a Western man falls to the ground. Two gunmen fire at least 10 more shots at the fallen man, then one kneels by his head and motions as if he is beheading him.
Copyright 2018 The Associated Press. All rights reserved. This material may not be published, broadcast, rewritten or redistributed. We strive to uphold our values for every story published.