The scenery was so much different when the U.S. Open last came to Long Island.
It was two years ago at Bethpage Black, a beast of a golf course anyone could play for $31, where raucous New Yorkers cheered for Phil Mickelson, razzed Sergio Garcia and left amazed at the incomparable Tiger Woods, who won his seventh major in his last 11 tries and then set off to win the Grand Slam.
No one was close to him that Sunday. No one was close in the game.
That's hardly the case now.
The U.S. Open will be played at Shinnecock Hills, an exclusive country club in the Hamptons that reeks of wealth and civility, and values its place in history as one of the five founding clubs of the U.S. Golf Assn.
Players rolled up their sleeves and bashed the ball at Bethpage. At Shinnecock, they straighten their collar and carefully steer through a links-styled course that relies on wind and waist-high fescue to protect par.
The landscape is just as different at the top of golf.
Woods hasn't captured a major since he left Long Island. And for the first time since winning his first major at the '97 Masters with record-breaking, breathtaking ease, he no longer is the prohibitive favorite.
"Times have changed," Ernie Els said. "I think guys get on the first tee and really believe they can win with Tiger in the field. Golf will always humble the best of them. That's where we are."
Woods still is No. 1 in the world, but now it's a number, not a statement. His only victory this year came at the Match Play Championship, where who you play can be more important than how you play. Woods had his worst finish ever at Augusta National as a pro. He squandered 36-hole leads in consecutive weeks on the PGA Tour, something he had not done in 18 previous occasions over five years.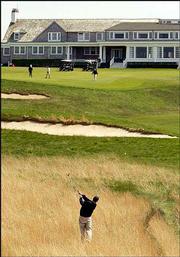 "Everybody feels the intimidation factor is not what it was," Brad Faxon said.
Els climbed to No. 2 in the world by winning the Memorial, his third victory worldwide this year. Vijay Singh is right behind, a three-time winner on the PGA Tour after snatching the money title away from Woods last season. Mickelson is playing as well as both of them, now armed with confidence after winning the Masters.
"I think Vijay and Ernie are certainly playing the best golf of anybody on tour," Davis Love III said. "Leave the rankings out of it. You say, 'Who do you like for this horse race this week?' Well, you'd be hard-pressed to pass Vijay and Ernie."
The U.S. Open is rarely a horse race. Regarded as the toughest test in golf, it is a four-day survival -- five if it goes to a playoff -- that chews up any player of any level who loses his patience or his mind. Usually, the two go together.
"You've got to be prepared to see stuff you've never seen before," John Cook said.
The wind blew hard only one round in each of the last two U.S. Opens at Shinnecock, and birdies were still rare. Raymond Floyd won in 1986 at 1-under 279, Corey Pavin in 1995 at even par.
"It's one of the best golf courses in the world I've played," Singh said. "I think everybody is excited, but at the same time a little fearful of how tough the golf course is going to play. If the wind blows, it's going to be almost impossible."
The course has been lengthened by about 80 yards, and tweaked in other areas. Several chipping areas have been created, similar to Pinehurst No. 2. Faxon found that instead of having the ball in an uphill lie in rough, it rolled some 20 yards away from the green, making it much tougher to get the ball close.
Mickelson spent three days at Shinnecock last week, studying the venerable course as though he were cramming for a final exam. Lefty had his first good shot at winning a major in the '95 U.S. Open, finishing four shots behind despite playing the par-5 16th in 6 over par for the week.
Nine years later, Mickelson finally has his major after winning the Masters with a 31 on the back nine.
"I'm looking forward to the U.S. Open this year," Mickelson said. "It's not because I won't have to answer the question of a guy who's never won a major. It's because I have a lot of confidence now."
Copyright 2018 The Associated Press. All rights reserved. This material may not be published, broadcast, rewritten or redistributed. We strive to uphold our values for every story published.