Las Vegas — When MTV came to Las Vegas three years ago, some of the Strip's biggest hotel-casinos refused to host "The Real World."
A long production schedule, concerns over patron privacy and a target audience too young to visit Vegas were reasons they cited.
BIG mistake.
The reality show transformed the eventual host -- the then fledgling, off-Strip Palms hotel-casino -- into THE place for celebs and beautiful twentysomethings.
"If they had to try and buy that kind of advertising, they wouldn't be able to afford it," said Jeanne Corcoran of the Nevada Film Office. "No one could."
Fast-forward to 2004: Vegas has rolled out the red carpet to TV producers.
Two prime-time shows devoted to all things Vegas already are on the air, two more are on this month, and another two in the fall -- not to mention all the poker and travel shows from and about the city.
The two new reality shows:
l "The Casino," set inside the Golden Nugget hotel-casino, focuses on a new pair of thirtysomething owners, Tom Breitling and Tim Poster, and debuts at 8 p.m. Monday on Fox. It's produced by Mark Burnett, creator of "Survivor" and "The Apprentice."
l "American Casino," which began earlier this month on Discovery Channel, is less about the owners and more about the everyday challenges of working in a casino. From handling drunken guests to managing a Super Bowl party for thousands, the show (at 7 p.m. Fridays) follows employees as they go to work at the suburban Green Valley Ranch hotel-casino.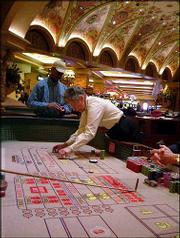 "There's a mystique about (Las Vegas) that people find insatiable. And that's what we're capitalizing on," said Mark Finkelpearl, co-executive producer of "American Casino."
Come fall, there'll be the animated spin on Vegas with "Father of the Pride," about a family of lions that perform with Siegfried and Roy.
The comedy on NBC's prime-time lineup joins "Las Vegas," which stars James Caan as a casino boss and was the highest-rated new drama for the 2003-04 season.
Over the years, Las Vegas has been a popular destination for sitcom characters such as Ross and Rachel of "Friends," but rarely the setting for its own television show. Until recently, the biggest show was "Vega$," a late '70s series starring Robert Urich as a private eye.
It wasn't until the 2000 debut on CBS of "CSI: Crime Scene Investigation" that Hollywood forged its current affinity with Vegas.
But even the forensics drama initially was leery.
"At the outset, the idea was that Vegas was a backdrop," said Carol Mendelsohn, the show's executive producer. "As time went on, Vegas has become more and more a character on 'CSI.' Vegas has been the accent, the seasoning of so many episodes."
After the success of "CSI," CBS is taking a gamble this fall on "dr. vegas," a show about a playboy casino doctor played by Rob Lowe.
Still, hotel-casinos like Mandalay Bay remain skittish about reality TV shows. It has turned down several offers, opting instead for short-term projects like NBC's "Fear Factor," which are less intrusive to hotel guests and limited to certain areas of the property.
"No amount of television is worth offending a customer," Mandalay Bay spokesman Gordon Absher said.
Copyright 2018 The Associated Press. All rights reserved. This material may not be published, broadcast, rewritten or redistributed. We strive to uphold our values for every story published.