COLUMBUS, OHIO — Ohio State fired basketball coach Jim O'Brien on Tuesday after he admitted giving a recruit $6,000 five years ago.
Athletic director Andy Geiger said he offered O'Brien the opportunity to resign, but the coach refused to step down.
"I am troubled that a rule was admittedly violated and it took us five years to find out about it," Geiger said.
In a statement released through his attorney, O'Brien did not dispute that he helped potential recruit Aleksandar Radojevic.
"I am advised that my firing is because I was asked to and tried to give assistance to a young man's family who was in dire financial straits," said O'Brien, who was 133-88 in seven seasons as Ohio State's coach. "The assistance in no way influenced the young man in his decision to attend OSU and, indeed, the young man did not enroll at OSU."
Geiger would not say whether the money was O'Brien's or came from another source.
"My understanding is it was not the school's," Geiger said.
Radojevic, a 7-foot-3 center from Yugoslavia, was recruited and signed by O'Brien. Before he ever played for Ohio State, however, the NCAA ruled he was ineligible for accepting $13,000 from a professional team in Europe.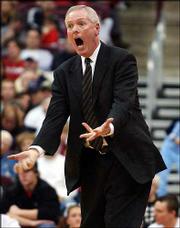 Ohio State learned of O'Brien's payment to Radojevic through a lawsuit against O'Brien by a woman who said she provided housing, meals and clothes for another Ohio State recruit from the same war-torn area, Slobodan Savovic. He played four years with the Buckeyes, including the team that made the 1999 Final Four under O'Brien.
Geiger said he had asked O'Brien about the lawsuit and was told by the coach that it was a minor problem and would go away. On April 24, Geiger said O'Brien told him that depositions in the lawsuit would reveal the payment made to Radojevic.
Copyright 2018 The Associated Press. All rights reserved. This material may not be published, broadcast, rewritten or redistributed. We strive to uphold our values for every story published.