Lawrence Police are stepping up neighborhood patrols and canvassing door-to-door after the latest in a series of sexual assaults and child molestations on the trails at Naismith Valley Park in south Lawrence.
The latest assault happened Saturday afternoon when a man lured a 5-year-old girl away from an 8-year-old boy and tried to molest her, police said.
"He had to have been just sitting there and waiting" for a child to come along, said Janice Schofield, who lives near the park. She said the boy ran to her house yelling for someone to call police. "They should at least post signs or do something. I don't know what can be done."
It's at least the fifth attempted or completed sexual assault since July 2002 along the tree-lined, isolated pathways of the park at 1400 W. 27th St.
The description of the suspect varies from case to case, but in Saturday's assault and two prior cases, the methods of the assailant or assailants was similar: Make seemingly harmless contact with a young girl, then lure her into an isolated area.
"People who do this are very adept at making kids comfortable about doing something," said Sgt. Mike Pattrick, a police spokesman.
The attack happened about 3:20 p.m. Saturday as the girl walked in the park with the 8-year-old boy. Schofield said the children were cousins and that they'd gone looking for turtles beginning at the park entrance near 29th and Missouri streets.
Schofield said the man separated the children by telling the boy there were turtles somewhere else.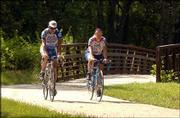 Pattrick declined comment about how the man was able to separate the children, but said the man then removed the girl's pants and tried to fondle her. The man fled after the girl screamed and the 8-year-old boy returned, Pattrick said.
Pattrick said police searched the area but didn't find the assailant, described as a white male in his late 20s or early 30s and 5-feet-10 with a medium build. He was wearing a blue and gray T-shirt, blue shorts and black tennis shoes.
Pattrick said Monday officers would conduct increased patrols and a neighborhood canvass.
And he said parents should remind children to be wary of strangers.
"It's a great park to enjoy, but you have to enjoy it when you're being safe," he said. "If you have small children ... I wouldn't let any small children be alone in that area."
Brian Jensen, who was biking through the park Monday with his wife, Michelle, called the attack "disturbing." The two live nearby and use the trail to get around town.
Brian Jensen said he's heard some people suggest getting rid of trees as a way to make the 25-acre park safer, but he said he'd hate to see that happen.
"It's safe for us, compared with riding out on the street," he said.

-- 6 News reporter/anchor Janet Reid contributed information to this article.
Aug. 5, 2003: A woman in her mid-20s is riding a bicycle on a path when a man approaches her and tries to knock her off of the bicycle. She describes the suspect as a white male in his late 40s with a long, black pony tail.June 18, 2003: A man persuades a 10-year-old girl to follow him into a secluded area of the park and tries to coax the girl into exposing herself. She gets away and describes the suspect as a white male in his mid-20s.May 28, 2003: A man approaches a 10-year-old boy riding his bike in the park and fondles him. The boy describes the man as a Hispanic male in his 30s.July 17, 2002: A man coaxes an 8-year-old girl off a trail and fondles her. She describes the man as a white male in his 30s or 40s.
Copyright 2018 The Lawrence Journal-World. All rights reserved. This material may not be published, broadcast, rewritten or redistributed. We strive to uphold our values for every story published.