The first major fund-raiser for Lawrence's Van Go Mobile Arts has a distinctly nautical theme that's much in keeping with the organization's image as a center of youthful creativity and whimsy.
"What Floats Your Boat?" is the theme of the Saturday event, the proceeds from which will benefit Van Go's JAMS program (Jobs in the Arts Make Sense) that serves young people ages 14-18.
The event, which will be at the Clinton Lake Marina, will feature a parade of boats (some of them decorated by JAMS kids), food provided by a McGonigle's Market of Kansas City, Mo., music by Marvin Hunt & The Gold Combo Band, dancing and a live auction of items, including the "Gogh Hawk Gogh" Jayhawk from the 2003 Jayhawks on Parade.
"We wanted to do something unique for our first fund-raiser," says Lynne Green, Van Go's executive director. "The events that we have had here (at Van Go's facility, 715 N.J.) are program related, such as the Adornment Show, an annual sale that is the culmination of our fall JAMS program."
Van Go has never organized an event strictly for fund-raising purposes, Green explains, nor has it hosted an event like this off-site from the Van Go facility. That's why the fund-raiser has also been dubbed "Van Go's Maiden Voyage."
"We want to give JAMS the most exposure that we can. This will be a venue for fun, but it will also be a venue to educate the public about JAMS," she says.
Heather Hoy, Van Go's development director since January 2003, calls the event a "friend-raiser."
"It goes along with what Lynne is saying about educating the public about our organization. Once people have an awareness of what we do, they're more likely to donate to our programs in the future," Hoy says.
Founded in 1997, Van Go Mobile Arts is an arts-based, social service agency that provides after-school and summer programs to high-needs and under-served youth.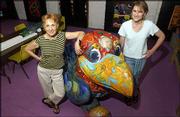 Using art as a vehicle, Van Go is devoted to delivering constructive activities to young people at risk for drug and alcohol use, teen pregnancy, truancy or delinquency.
JAMS, meanwhile, is Van Go's youth employment program that was initiated in the summer of 1999. Modeled after Chicago's award-winning Gallery 37, JAMS interviews and hires 18 youth, ages 14-18, three times annually to create artwork that is sold to help support the not-for-profit's efforts.
The highlight of the fund-raiser will be the boat parade.
Anyone can enter a boat. The cost is $25 for boats sponsored by families or nonprofits, and $250 for boats sponsored by businesses.
The list of Lawrence businesses and organizations that plan to sponsor boats in the parade includes: Amarr Garage Door, The Bristol Groupe, Robert W. Baird & Co., Treanor Architects, P.A., Golf Course Superintendents Association of America and Health Care Access Inc.
Young people involved in JAMS will decorate boats in the parade sponsored by Amarr Garage Door ($1,000), Baird ($250) and The Bristol Groupe ($250).
Megan Hiebert, owner of Clinton Lake Marina and a Van Go supporter, will provide three of her boats from the marina for the parade.
Green and Hoy hope to attract 300 participants to the fund-raiser. Tickets cost $35 per person; tables for 10 cost $350.
"We will feel extremely successful if 250 people show up," Hoy says.
"The important thing is that people come out to have a good time for a good cause, and that they understand what a unique and valuable asset Van Go is to the community."
"What Floats Your Boat?" -- a fund-raiser for Van Go Mobile Arts and its JAMS program (Jobs in the Arts Make Sense) -- will be Saturday in the parking lot above the boat slips at Clinton Lake Marina.The event, billed as "Van Go's Maiden Voyage," will feature a boat parade that is open to individuals, families, nonprofits and businesses in the community that would like to sponsor boats.Cost to participate in the parade of specially decorated boats is $25 for families and non-profits, or $250 for businesses.The fund-raiser also will have a live auction of 10 to 15 items, including: the "Gogh Hawk Gogh" Jayhawk sponsored by Central National Bank for the 2003 "Jayhawks on Parade"; a custom-made Van Go bench decorated by JAMS youth to the purchaser's taste; and a Jayhawk hot-air balloon ride provided by Steve and Carol Libel, with a barbecue picnic prepared by Kansas City-area McGonigle's Market.The casual-dress event also will feature live music by Marvin Hunt & The Gold Combo Band.All proceeds from the event will support Van Go's JAMS youth-employment program.Tickets cost $35 per person, or $350 for a table for 10. To reserve a ticket, call 842-3797. Advance sales are recommended, as the ticket price includes the $6.50 fee for parking at Clinton Lake.Here is a list of sites where tickets can be purchased: Van Go Mobile Arts, 715 N.J.; Central National Banks at 603 W. Ninth St., 711 Wakarusa Drive, 3140 Nieder Road, and 2321 Harper St.; and Travellers Inc., 831 Mass.
Copyright 2018 The Lawrence Journal-World. All rights reserved. This material may not be published, broadcast, rewritten or redistributed. We strive to uphold our values for every story published.