Los Angeles — The next two weeks in the NBA are about determining a champion.
It's two teams now -- the dysfunctional Los Angeles Lakers, who were talked about and gawked at all season, and the Bad Shooting Boys, the Detroit Pistons, who apparently count baskets as one point.
"It should be a fun series," Lakers center Shaquille O'Neal said. "The Fantastic Four against the Wallace guys."
The Fantastic Four is O'Neal's crew: himself, Kobe Bryant, Karl Malone and Gary Payton, the last two being former All-Stars on teams that lost to the Chicago Bulls during their second three-peat from 1996 through '98.
The Wallace guys are Ben, he of the big hair and bigger heart, and Rasheed, the guy with the big mouth and the big disappointment. That disappointment occurred in the 2000 Western Conference finals, when his Portland Trail Blazers had a 15-point fourth-quarter lead in Game 7 against the Lakers and asked him to carry them home.
Two teams later, Rasheed Wallace isn't being asked to carry anyone. But he's the difference in making an Eastern team a threat in the Finals for the first time since 1998.
In O'Neal, the Lakers have "the most dominant player in the NBA," Rasheed Wallace said. "But that doesn't mean we've got to be scared of him. Look at Michael Jordan. He was the most dominating player in his time. Was Joe Dumars scared of him?"
Big talk won't get it done, but don't discount this Pistons team.
They've given up more than 95 points only once in 18 playoff games, a 127-120 loss to New Jersey in triple overtime. The Pistons blocked 19 shots against Indiana in Game 2 of the conference finals, the second-highest total in playoff history. Only four teams scored 100 points against the Pistons in the regular season, and one of them had to go to overtime.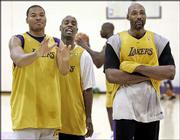 They set a league record for most games holding teams under 70 points. Ten of Detroit's last 14 opponents didn't make it to 80, and they're giving up just over 80 points a game in the playoffs. They've made the most blocks and committed the most fouls among playoff teams. They're No. 1 in guarding the three-point line and in points allowed.
"Our motto is, 'Come to work or go home,'" shooting guard Richard Hamilton said. "We know if it's a close game, our defense always gives us a chance down the stretch."
The Lakers have played better teams than the Pistons--perhaps everyone they've faced in the playoffs. But they haven't played anyone as tough or relentless.
That's the problem with the Pistons. They don't know they're not good enough to be winning all these games. They challenge every shot, contest every possession.
"Ben and I are going to go hard and do what we can," Rasheed Wallace said the other day in Detroit. "Shaq, that's a big man right there. We're not going to back down from him, though.
"It's all on the character of the person. If you've got a punk dude who's guarding him, then yeah, he's going to be scared. But if you've got a dog with heart, you go out and get him."
He seemed to suggest the Pistons were serious about winning.
The teams played twice this season and split, and Phil Jackson said the Pistons were the East's best team. And that was before they added Rasheed Wallace. It also was in November, when the Lakers were at full health and strength and headed for an 18-3 start. Overall, the Pistons had a winning record against Western Conference teams.
There are curious modern connections to the series.
Bryant and Hamilton faced each other as teenagers in the Pennsylvania state playoffs. Bryant's Lower Merion team eliminated Hamilton's Coatsville squad.
Reserves Derek Fisher of the Lakers and Corliss Williamson of the Pistons are childhood friends from Little Rock, Ark.
"Two guys who grew up in Arkansas, small-town guys playing key off-the-bench roles for teams that could win NBA championships--that's not what you write down on your wish list as a kid," said Fisher.
Jackson wanted to be an NBA coach when his playing career ended with the Nets. Larry Brown was the Nets' coach then, and he turned down Jackson's request for an assistant's job, leaving Jackson to coach in Puerto Rico and the Continental Basketball Association. He was on the verge of quitting before the Bulls rescued him.
Pistons reserve center Elden Campbell played eight-plus seasons for the Lakers before he was sent to the then-Charlotte Hornets in the Glen Rice trade.
Pistons reserve Lindsey Hunter, the only Detroit player with a championship ring, won it while playing for the Lakers in 2002. He was traded to Toronto in a draft-day deal that brought L.A. the rights to Kareem Rush.
Jackson is going for his record-setting 10th NBA coaching title, and Brown, already in the Hall of Fame, is going for his first as he guides the Pistons.
Malone and Payton also are going for their first NBA titles at the end of distinguished careers.
The Pistons have won two NBA titles and made five Finals appearances, two when they were in Fort Wayne, Ind. The Lakers franchise is basketball's version of the Yankees. The Lakers are making their 28th Finals appearance and have won the championship 14 times, five times in Minneapolis. They're the only franchise to be in the Finals in every decade since the start of the NBA in 1946.
In their last three trips to the Finals, the Lakers beat Indiana in six games in 2000, Philadelphia in five in 2001 and New Jersey in four in 2002.
No team has won four championships in five years since the Celtics' run ended in 1969.
"You (media) guys have your own minds and your own trickery with your pens, so I don't know what you're going to write or where you're going to rank us," O'Neal said last week. "I wouldn't start ranking until I stop playing."
Some have joked that O'Neal stopped playing two years ago. But here the Lakers are again, a different team with more issues than perhaps any Finals teams ever.
But should they win, no one but the Auerbach-Russell Celtics will have had a better run.
Copyright 2018 The Lawrence Journal-World. All rights reserved. This material may not be published, broadcast, rewritten or redistributed. We strive to uphold our values for every story published.