Paris — French officers pinned the Legion of Honor on the chests of 99 former American soldiers Saturday, thanking them at a pomp-filled military ceremony for helping to free Europe from Nazism 60 years ago.
Children and grandchildren watched proudly, many shooting pictures and videos.
Most of the recipients landed on Normandy's beaches on D-Day -- others were pilots who backed the invasion with bombs, medics who treated the wounded, and troops who landed elsewhere in France after the initial attack.
The government said it wanted to honor the 99 as representatives of all the Americans who helped liberate France from German occupation.
"There's no one who deserves it more than him," Sarah Martin said of her uncle, Alvin Ungerleider, of Burke, Va., who stormed ashore at Omaha Beach and later helped liberate a Nazi concentration camp. "He kept his cool at the landing and in all the chaos was able to lead a group of men."
Also receiving awards were three Australian fighters who participated in D-Day. French President Jacques Chirac will decorate 16 more veterans today in Normandy, representatives of nearly a dozen nations who aided the Allied effort.
The Americans -- who included a handful of women, mostly former military nurses -- stood straight as their names were read over a loudspeaker. French officers pinned a red ribbon and five-pointed silver and green star on each veteran's chest.
"In the name of the president of the Republic and by virtue of the powers conferred on us, we name you chevalier of the Legion of Honor," a military officer told each recipient before offering an embrace.
In the enormous courtyard of the Hotel des Invalides, a palace built for those wounded in war, a military band played the French and American national anthems as troops in berets stood at attention.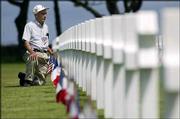 "It's a very humbling experience," said former Army nurse Kathleen Golden Dedick, 83, of Florida, who arrived in Normandy a few days after the first wave of forces. "Because I'm here representing the three doctors I worked with, my surgical team" and other medical colleagues who have died.
Dedick and her husband, Andrew, 87, a former military doctor, met during the war and received Legions of Honor together, holding hands in the hot Paris sun.
The ceremony was part of a weekend of commemorations marking the 60th anniversary of D-Day, June 6, 1944, when Allied troops landed in Normandy in a push that would eventually break Hitler's grip on Europe.
A 100th American -- Charles Hostler, a wartime counterintelligence officer -- will receive his Legion of Honor from Chirac today at the international ceremony in Normandy.
Those honored in Paris represented many branches of the American military and regions of the United States.
Grace Bender said her father, Joe Morisi, 91, of Washington, D.C., was overwhelmed when he heard about his Legion of Honor and was eager to make the trip to France so he could visit the graves of fallen comrades in Normandy.
"He said he could die in peace (after) going back to pay respects to the men in his unit who died," Bender said.
Copyright 2018 The Associated Press. All rights reserved. This material may not be published, broadcast, rewritten or redistributed. We strive to uphold our values for every story published.