In its 13th year, KAN Film Festival is beginning to do its job, says its director.
"If you want to develop art in any area, you have to start young," said Pat Hamarstrom, in her fourth year as executive director of the festival.
The work of more than 80 filmmakers, all finalists in the festival, was screened Saturday at the Lawrence Arts Center, 940 N.H. More than 200 filmmakers entered the contest.
The festival, which was primarily for students and residents in Kansas and Missouri, divided entries into five categories: Primary, first- through sixth-graders; Intermediate, seventh- through ninth-graders; Secondary, 10th- through 12th-graders; College; and Open, with no residency requirements.
Six-year-old Henry Bergin, Kansas City, Mo., won the "Original" category of the Open division with his 11-minute film, "Cloud Warriors." His father, John, helped, but he credits the concept, script and drive behind the animated fantasy piece to his son.
The competition included worldly professionals. Henry nudged out Jeremy Osbern, the Lawrence filmmaker who took second in the category and won the Kansas Film Commission's $500 U.S. Savings Bond Scholarship Award. Osbern didn't attend Saturday because he was in Tel Aviv, Israel, showing another film at that city's International Student Film Festival.
The effects of the KAN festival are beginning to proliferate, Hamarstrom said. About 500 people attended the screenings Saturday.
This year's Independent Filmmaker Award recipient Steve Balderson entered the first KAN festival 13 years ago, and now he's producing feature-length films such as "Firecracker," his most recent, and "Pep Squad," his first. The premiere of his documentary, "Wamego: Making Movies Anywhere," about filming "Firecracker" in his hometown of Wamego, kicked off the festival Thursday. Balderson spoke about "Wamego" Saturday afternoon.
The film festival, which trains participants over a weekend in the fall, gives aspiring directors an avenue, or perhaps an excuse, to show their work, Hamarstrom said.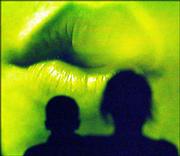 "They sort of get permission to take it seriously," Hamarstrom said.
Not all the entrants were aspiring filmmakers. Some, like 9-year-old Kassidy Murphy of Malden, Mo., had access to a camera and wanted to use it.
She learned the computer program PowerPoint and narrated photos of her trip to the nation's capital when the family followed her 13-year-old sister to National History Day.
"I just wanted to see what it would feel like," she said.
Her piece, "My Trip to Washington DC," won first place in the Primary division for documentary.
Several locals went home with awards. Hamarstrom credits the local tendency to produce heartfelt films for the success.
"Our films from the immediate area usually end up topping these lists," she said. "We get in some films that have names, and they're not always good. Something real and heartfelt can be a much better film than something that's slick and polished."
Though the student divisions were limited to entrants from Kansas and Missouri, people from as far away as Hawaii turned in films for the open division, Hamarstrom said.
This year was the first time the festival was at the Lawrence Arts Center. Previously at Kansas University's Lied Center, this year the festival featured tighter quarters but more camaraderie. No one had to walk across a parking lot this year to get to a different venue, Hamarstrom said.
"It's not that the Lied isn't gorgeous; it's not that we're not overflowing, but it's kind of OK to overflow," she said.
Division winnersKansas Film Commission $500 U. S. Savings Bond College: Jeremy Osbern, Lawrence, Kansas University$250 U.S. Savings Bond Intermediate: Maya Weil/Hilary Spratt/Sara Pace, Lawrence, Central Junior High SchoolOpen Documentary3rd: Ranjit Arab, Lawrence.Open Drama/Comedy under 30 Minutes2nd: Patrick Rea, Lawrence.Open Industrial/Educational1st: Dan Ginavan, Eudora.Open Original2nd: Jeremy Osbern, Lawrence.3rd: Ethan McDonald, Lawrence.Open Music Video2nd: Malarkey, Robert Baker/Mark Von Schlemmer, Baldwin.College Drama/Comedy1st: Christopher Blunk, Omaha, Neb., KU2nd: Dan Ryckert, Olathe, KUCollege Documentary1st: Ranjit Arab, Lawrence, KU2nd: Melissa DuBlois Mairs, Overland Park, KUCollege Original1st: Jeremy Osbern, Lawrence, KU2nd: Paul Santos, Shawnee, KU3rd: Ethan McDonald, Lawrence, Ithaca CollegeCollege Music Video1st: Steve Unruh, Jeremy Osbern, Lawrence, KUSecondary Drama/Comedy2nd: Lauren Kimball Brown/Julia Zinn, Lawrence, Free State High SchoolSecondary Original3rd: Daniel Ohlemeier, Lawrence, Lawrence High School.Intermediate Documentary2nd: Maya Weil/Hilary Spratt/Sara Pace, Lawrence, CJHS3rd: Hannah Frydman/Mulligan Greenwell, Lawrence, CJHS
Copyright 2018 The Lawrence Journal-World. All rights reserved. This material may not be published, broadcast, rewritten or redistributed. We strive to uphold our values for every story published.