All the right conditions have converged into a major low-carb storm.
What everyone thought would be a short-term fad has taken over restaurants and grocery stores as low-carb menus and products flood the market.
Say the words "I'm on Atkins" or "I'm on South Beach" and any diner knows to pass the steak.
Dietitian Liz Marr says the low-carb invasion was triggered when science took a second look at the Atkins diet. "You had this whole scientific community saying, 'Atkins has no science behind it, and we'll prove it,'" Marr says. "Instead, they proved that it's just as effective, at least on a short-term basis, for weight loss, and it doesn't affect cholesterol."
The late Dr. Robert Atkins' food and vitamin company, Atkins Nutritionals, went into overdrive, with everything from a low-carb ice cream to low-carb cereals. As people found they could lose weight quickly, carbs became public enemy No. 1. Sales of white rice, pasta, breads and high-carb fruit juices have dropped between 2 percent to 5 percent, according to ACNielsen, and manufacturers began formulating low-carb products to pick up the slack.
Julie Gunkel, of Centennial, Colo., a paralegal, has been on the South Beach diet for three months. Before going on the diet, she discovered that she was gluten intolerant, "so it wasn't as painful to give up carbs because I had to do it anyway."
She's lost 8 to 10 pounds on the diet. "I don't know if I can say I really like it, but after the first couple weeks, I didn't miss carbs and it does make you try new things."
Experts agree that a low-carb diet can be useful for quick weight loss. They have concerns ranging from the long-term implications of any weight loss program based on a particular food group to a Band-Aid approach to a major problem: obesity in America.
"We need to cut down on portion size and get active," says Dr. Susan Finn, past president of the American Council on Nutrition and Exercise. "We don't need to be changing hamburger buns for lettuce leaves."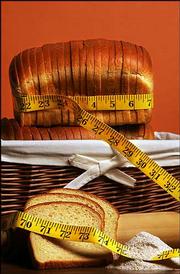 Says Jim Hill, director of the University of Colorado's Center for Human Nutrition: "The problem is not that we're eating the wrong things, it's that we're eating too much of everything."
Part of the issue with carbs and weight loss is how quickly carbs are broken down and absorbed in the bloodstream.
This is where the idea of "good carbs" versus "bad carbs" comes in. Some carbs are absorbed quickly; others are absorbed more slowly. Whole-grain foods are absorbed more slowly than processed carbs. Brown rice, for instance, takes longer to digest than white rice and that's exactly what you want. That keeps the body's chemistry consistent throughout the day.
A low-carb diet is no different from any other in terms of its basic premise. "It still boils down to calories," Marr says. "When you're on a restricted diet and you're watching your weight, you're restricting calories."
Says Metropolitan State College of Denver nutrition professor Jennifer Weddig: "If you sit down to bacon and eggs at breakfast, have a half a can of nuts, then eat cheese and meat for lunch, steak and broccoli with butter and cheese for dinner, you're going to have as many calories as any other meal pattern."
By Marty Meitus - Scripps Howard News ServiceAmerican Italian Pasta's new low-carb pasta is an example of how low-carb products were developed. Company brands include Martha Gooch and R&F; Pasta."It's been in the works for five months," says the company's Dan Trott. "It's a result of a recognition that the pasta category has softened. People have slowly drifted away because of the negative halo on pasta with the carbohydrate buzz."He believes that the negative image of pasta "will mitigate itself over time, you don't push water uphill, so we came up with a product that is essentially a healthier pasta, by reducing carbs and replacing them with protein and fiber."Trott is confident that the product tastes good. As many consumers know, that wasn't the case with many of the no-fat products.
Copyright 2018 The Lawrence Journal-World. All rights reserved. This material may not be published, broadcast, rewritten or redistributed. We strive to uphold our values for every story published.