A Boston-based marketing company wants to know what Kansas University students, faculty and staff think when they see the image of a Jayhawk.
Likewise, the company wants to know how people react to the university seal, which depicts Moses kneeling before a burning bush, surrounded by a Latin inscription. Does it inspire thoughts of academic quality, fun, athletics? Or is it off-putting?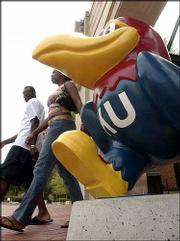 And what about the name? Do people prefer KU, University of Kansas or just Kansas? Does University of Kansas need a "the" in front of it?
Those are some of the questions Carnegie Communications included in its electronic survey aimed at helping KU officials figure out how -- or whether -- to refine use of the university's logos. Replies were due last week, though it will be late this month or early July before results are tallied.
"Everybody who's ever had anything to do with KU loves the Jayhawk. It's a precious symbol," said Dave Johnston, marketing coordinator for the KU Memorial Unions and co-chairman of the university's Visual Identity Committee. "We're certainly not looking to do anything to change the Jayhawk."
Instead, the committee is trying to figure out how to get the most out of its logos.
"When you're recruiting high school students, the Jayhawk works really well," he said. "I'm not so sure -- I'm hypothesizing here -- that would be the case on a faculty research proposal. That's what we're trying to find out."
Complicating matters is the fact KU is awash in images. Nine of KU's 14 schools have their own logos, as do programs including the Kansas Biological Survey, Schiefelbusch Institute for Life Span Studies and the Dole Institute of Politics.
"We seem to have a lot of symbols and logos," said Lynn Bretz, director of university relations, who is also co-chairwoman of the Visual Identity Committee.
Bretz said the committee hoped eventually to come up with a plan for strengthening KU's identity, especially in the development of Web sites.
"What we'd like to do is build a tool box for everybody on campus that says, 'In this situation, use this logo or this image,' and then have them on hand," she said. "We want to be as efficient and as effective as we can be."
Bretz said KU has $32,000 set aside for the Carnegie Communications' survey, which eventually will be broadened to include input from alumni and prospective students.
"I think we'll see ideas will come together sometime in the fall," she said.
Copyright 2018 The Lawrence Journal-World. All rights reserved. This material may not be published, broadcast, rewritten or redistributed. We strive to uphold our values for every story published.