OAKLAND, CALIF. — Mark Kotsay needed two months to hit his first home run for his new team. With Oakland home-run leader Eric Chavez sidelined for at least six weeks, the timing was perfect.
Kotsay hit Oakland's second straight game-ending home run, a 10th-inning drive Wednesday that gave the Athletics a 3-2 win over the Chicago White Sox.
"It was a good time for a first one," Kotsay said. "It was worth the wait."
A day after Bobby Kielty's 12th-inning homer beat the White Sox 6-4, Kotsay pinch hit for Kielty in the eighth inning.
Then in the 10th against Jon Adkins (2-2), Kotsay homered for the first time since Sept. 19 against Colorado. Kotsay had not homered in his previous 51 games and 206 at-bats.
It was the first time Oakland got consecutive game-ending homers since Dwayne Murphy and Mike Heath did it on Aug. 14 and 15, 1981. Kotsay had one previous game-ending homer, against the New York Mets on June 30, 1999.
"I'm not that type of player who's flashy or does spectacular things, but over the course of 162 games you might say, 'He helped the team,"' Kotsay said. "If you come here one night, you might think I'm the worst player in the big leagues. If you come here every night, you might think otherwise."
Kotsay received praise from manager Ken Macha last month for being unselfish when Eric Byrnes was playing in his place as Kotsay spent time working on his swing. Kotsay went 0-for-5 Tuesday but insists he has become more confident at the plate in recent weeks.
"This park's killing me," he said. "You can't get caught up in numbers. If you do, you start thinking about things that are out of your control."
Oakland played without Chavez, the team's Gold Glove third baseman, who was placed on the disabled list earlier in the day after breaking a bone in his right hand in the 11th inning Tuesday night when he was hit by a pitch from Damaso Marte.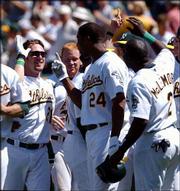 Arthur Rhodes (2-3) pitched two scoreless innings for the win.
Scott Hatteberg's RBI single in the ninth tied the score Wednesday against former A's closer Billy Koch, who blew a save for the second time in nine chances. Hatteberg got to third on Bobby Crosby's groundout and Mark McLemore walked to bring up Byrnes, who lined out, sending the game into extra innings.
Joe Crede had a career-high four hits and Carlos Lee extended his hitting streak to 19 games with a first-inning RBI single that put the White Sox ahead.
Mark Buehrle, going for his fifth straight win, outpitched Mark Mulder.
Buehrle hasn't lost since April 20, when he was pulled after two innings in an 11-8 loss to the New York Yankees. This time, he worked creatively -- stopping two grounders with his feet, picking up the ball and throwing to first for the out. He allowed five hits, struck out six and walked two in six innings.
But the A's rallied to win their seventh straight home game and 13th in 14 games against the White Sox in Oakland since 2001.
"It's tough any time we play here," Buehrle said. "We've never played well here. They are always tough losses."
Rangers 5, Indians 3
Cleveland -- Gary Matthews Jr. homered off Rafael Betancourt (2-4) leading off the ninth inning and Hank Blalock connected with two outs as Texas completed a two-game sweep. Carlos Almanzar (5-0) won despite giving up Casey Blake's tying single in the eighth. Francisco Cordero walked two in the ninth before getting his 18th save in 18 tries, a team record.
Yankees 6, Orioles 5
New York -- Gary Sheffield and Derek Jeter homered, and Ruben Sierra hit a go-ahead sacrifice fly, rallying New York past Baltimore. Baltimore burst ahead with a five-run first inning, knocking out Jose Contreras just two outs into the game. But the Yankees' bullpen, led by Tanyon Sturtze, held the Orioles scoreless the rest of the way. Bret Prinz (1-0), recalled from Triple-A Columbus before the game, pitched 12/3 perfect innings for his first win with the Yankees. Mariano Rivera got his 20th save in 21 chances.
Devil Rays 4, Twins 2
Minneapolis -- Tampa Bay rookie Doug Waechter took a no-hit bid into the sixth and threw seven strong innings against Minnesota. Waechter (3-5) gave up three hits, including Corey Koskie's two-run homer in the seventh. Twins starter Brad Radke (4-3) gave up nine hits and three runs in seven innings, his first loss in seven starts since April 26.
Angels 10, Red Sox 7
Anaheim, Calif. -- Vladimir Guerrero had a club-record nine RBIs, homering twice and going 4-for-4 to lead Anaheim.
Guerrero's RBIs were the most in the major leagues since Boston's Bill Mueller had nine at Texas last July 29. Guerrero leads the AL with 49 this season.
Guerrero's second homer was a three-run shot in the sixth off Mike Timlin (3-2), who had just replaced Pedro Martinez, and brought the Angels back from a 7-5 deficit.
Guerrero hit a two-run homer off Martinez in the first inning, doubled home two more runs in the third, then hit a sacrifice fly in the fourth. He drove in his ninth run with a single against Keith Foulke in seventh.
Blue Jays 5, Mariners 3
Seattle -- Slumping Josh Phelps hit his first career grand slam, leading Toronto. Phelps had one hit in his last 14 at-bats when he homered in the second inning off Joel Pineiro (1-7). Ted Lilly (4-2) won his fourth straight decision.
Copyright 2018 The Associated Press. All rights reserved. This material may not be published, broadcast, rewritten or redistributed. We strive to uphold our values for every story published.