Mapou, Haiti — Named after a sacred tree in the Voodoo religion, this Haitian village has few remaining mapou trees and a scant number of others on its surrounding mountains.
When floods tore through town last week, many survived by clinging to roots, branches and trunks -- but it was the overall absence of trees that made the onslaught so deadly. At least 1,700 people died, half in the area around Mapou.
"We know we need trees, but we also need to eat and to cook," 87-year-old Philis Milfort said.
With no tree roots to hold soil on the mountains, the torrential rain water barreled down unchecked, collecting silt, gravel and boulders that slammed into villages. There, the floodwaters gathered new weapons in the form of aluminum roofs and other debris.
More than 90 percent of Haiti is deforested, in large part because most of its 8 million people use charcoal to cook. There's no electricity outside major cities and towns.
Government leaders met Wednesday, looking for ways to protect the environment as activists held a telethon to raise money for victims. Aid workers warned hundreds of villagers remain at risk from dams that could burst in a hurricane.
Haiti's U.S.-backed interim government, which in March took over a treasury left bankrupt by ousted President Jean-Bertrand Aristide, is looking to the world community for help.
"After a disaster like this, we have to reorganize, make reforestation a priority and find a way to enlighten people," said Yves Andre Wainright, Haiti's undersecretary of the environment. "But we also have to give the poor an incentive, and find a way to police the forests."
Older villagers remember when there were more than a dozen mapou in the area -- trees that grow for more than a century, with massive trunks that take a score of men to span.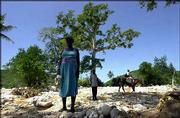 But as poverty deepened, the trees disappeared.
First villagers chopped down hardwoods like mahogany and cherry. Then they went after mango and avocado trees, destroying a food source. The sprawling mapou trees were cut as a last resort. Followers of Voodoo, one of Haiti's official religions, believe the trees are repositories of spirits and hold ceremonies in their shade.
In some dry patches of the country, only legends of the mapou remain.
"My grandmother used to tell me stories about the mapou trees and how they should always be respected for the power that they had with the spirits," said Dereston Jean-Louise, 45. "But that was a different time. People are poorer now and a lot of us don't have choices."
Copyright 2018 The Associated Press. All rights reserved. This material may not be published, broadcast, rewritten or redistributed. We strive to uphold our values for every story published.