Lawrence-Douglas County Fire & Medical will celebrate the career of their resident "Doc" in a special ceremony today.
There will be a retirement reception for Bob Kent from 3 p.m. to 5 p.m. at the Douglas County Senior Services building, 745 Vt. Kent will retire from the department officially on June 14.
Kent, 63, is not your average firefighter.
He is believed to be the oldest firefighter in Lawrence to actually hang off the side of the truck and run into burning buildings. Older firefighters usually become officers, but Kent never wanted to take that path.
"I was pretty content," Kent said. "I had other priorities."
Those other priorities were unique. He is the only firefighter in the history of the department with a doctoral degree. He was also instrumental in changing how the local union bargains with management.
Kent, who is married to Lawrence-Douglas County Health Department director Kay Kent, joined the Lawrence Fire Department in 1984 after finishing graduate and doctoral degrees in American studies at Kansas University.
"We wanted to stay in Lawrence, and I couldn't find a faculty position within commuting distance," Kent said.
A friend suggested he apply for a job at the fire department.
Despite being older than most recruits, Kent, who was 43, passed all the physical tests. Chief Jim McSwain, who has led the department for more than 25 years, hired Kent all those years ago.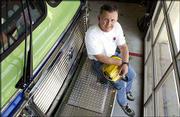 "We have a pretty vigorous entry-level physical testing program," McSwain said. "If people can pass that test where they need to, along with our physician's physical, then we don't think age is that important.
"And it's proven true because (Kent's) done a good job. He hasn't let up a bit."
Kent said the firefighters made bets he wouldn't make it three months.
"They're all retired now," he said with a laugh.
Soon after joining the department, Kent became the president of the firefighters union. He stayed in that position for a few years and eventually became the union's spokesman and lead negotiator.
In 2000, the union and department switched from a more adversarial type of bargaining to interest-based bargaining, also called "win-win" bargaining.
"He was one of the guys who was instrumental in changing the way we negotiate," Lt. Ed Noonen said.
McSwain said Kent's interest in changing the way the union negotiated has made the department stronger.
"Bob thinks well, has a lot of common sense, he has a real interest in making things better," McSwain said. "He really helped us think about changes that would better the department."
In addition to fighting fires, Kent has taught at KU in the American studies and special education programs for several years. He will continue teaching after his retirement from the fire department.
He also plans to write, work in his garden and spend more time at the gym.
"One of the things that always impressed me is how fitness-oriented he is," Noonen said. "He looks like a kid."
Kent said the thing he would miss most about working at the department was the companionship among the firefighters.
"The best part was being a member of a band of brothers and sisters," Kent said. "It's time to move on, this is a young man's job. I've loved being a firefighter, and there's a lot of sadness about leaving. The fire service is a community, and I feel really close to them."
Copyright 2018 The Lawrence Journal-World. All rights reserved. This material may not be published, broadcast, rewritten or redistributed. We strive to uphold our values for every story published.