Lawrence resident Jim Whittaker got the chance to see Lance Armstrong cross the finish line for his sixth consecutive Tour de France victory Sunday in Paris.
What Whittaker didn't get the chance to do was thank the sport's legend for making his job so much easier.
Whittaker makes his living as a trainer for competitive bicyclists across the country. He charges about 30 amateur cyclists $125 per month to provide training on how to keep their bodies in top physical shape and teach them a variety of racing techniques.
Whittaker has been operating the business, Velotek Training, from his southeast Lawrence home since 1994. In the early years, finding customers was tough, but with each Tour de France victory by Armstrong, the process has become more like pedaling downhill.
"The average 12-year-old knows there is a sport of cycling out there. Ten years ago they had no idea," Whittaker said. "And when you approach the parent of a 12- or 15-year-old, the mom knows about Lance Armstrong.
"The 'Lance effect' does a lot of the legwork for me anymore. There's just a lot better appreciation of what the sport is."
Whittaker is expecting Armstrong's dominance to pay dividends for years. Whittaker said he expected many of the young viewers of the 21-day race to be future customers.
Since his return from France earlier this week, Whittaker said four young athletes have approached him about getting into competitive cycling.
"I'm confident that all this publicity for cycling will enable me to maintain my business where I want it," Whittaker said. "I don't have to advertise anymore."
Instead, Whittaker, organizes -- through his other company, Alta-Sport L.C. -- from 15 to 20 bicycle races a year for the Lawrence area. Those races allow him to stay in touch with competitive riders in the area who may need his services.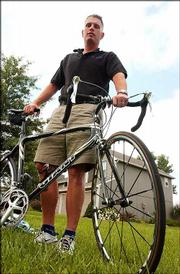 But he doesn't plan on using the sport's newfound popularity to crank up any major expansion plans. Training 30 different riders is as much as his schedule allows. That's in part because Whittaker has to find time to ride about 7,000 miles a year on his own bicycle and compete in approximately 30 races a year.
"I define success a little differently," he said. "To me it is having enough income to enjoy the time you have, and having enough time to enjoy the income you have. I'm making a good living at this now, and I just feel really fortunate that my sport is my job."
The job has taken him to the Tour de France three times and allows him to own eight racing bicycles, some of them costing as much as $4,000.
Because Lawrence didn't have many cyclists in 1994, Whittaker structured his business to train riders across the nation. Most of the training he provides is done by telephone, Internet and fax machine.
Each month he gives each athlete a detailed, written training plan to follow. It maps out how many miles a rider should ride each day, gives suggestions for what bicycle gear to use, and spells out performance goals for the rider.
As the popularity of cycling has increased in Lawrence, so too has the number of Whittaker's clients from the area. He now counts about half of his client base from the Lawrence or Kansas City areas. Others come from as far away as Vancouver, British Columbia.
Clients seem to like the unique system. Joseph Schmalz is a 14-year-old Lawrence resident who has been training with Whittaker for 18 months.
"It is almost like night and day," Schmalz said of how the training had helped him. "He teaches me so much about the techniques of racing. If I didn't know him, I wouldn't know half as much as I do."
Copyright 2018 The Lawrence Journal-World. All rights reserved. This material may not be published, broadcast, rewritten or redistributed. We strive to uphold our values for every story published.