Want to build a better burger? Start thinking outside the bun -- and well beyond the traditional accompaniments.
Cooks and managers of five Lawrence restaurants known for their hamburgers say that is the way to create a burger to thrill the taste buds.
The Journal-World contacted Kaspar's Bar & Grill, Henry T's Bar & Grill, Free State Brewing Co., Johnny's Tavern and Molly McGee's Grill and Bar. Here's the advice they offered readers who want to make great burgers in their own back yards.
Meat
To build a burger that sizzles, begin with quality beef, neither too lean nor too fatty. An 80/20-percent ratio of beef to fat is about right. If you can buy beef that comes from locally grown cattle, better still. Go with beef that's fresh, rather than frozen. Try buffalo burger, for a change.
When you go to grill or charbroil your burger, keep one thing in mind: Don't press the patties to speed cooking time. Doing so just presses all the juices out of the meat. Season your beef with a little salt and pepper.
And try to grill your burgers to the desired doneness of your guests. If they don't specify, serving them medium is a good default.
Bread
For buns, seek out fresh and local sources when you can. White or wheat, onion, onion/poppy seed and sourdough buns and rolls are fine choices. Try toasted marble rye for a patty melt, or Texas toast.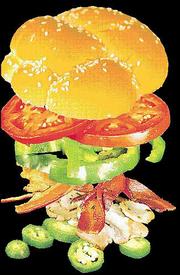 Tomato
If you want tomatoes on your burger, get the freshest, juiciest ones you can find. Pick ones that are red and ripe. Homegrown tomatoes are a plus. When tomatoes are in season, burgers at Free State Brewing Co. are served with tomatoes right from the garden of Chuck Magerl, the restaurant's proprietor.
Onion
Like onions on your burger? Sliced red onions are a better raw garnish than white onions; they're sweeter. But white or yellow onions are the way to go if you're going to grill them. Also, try onion rings or fried shoestring onions.
Lettuce
Most restaurants use either iceberg or leaf lettuce on their burgers. But leaf lettuce has a nice, darker green color.
Cheese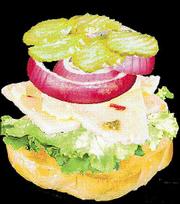 Try cheeses such as: yellow or white cheddar, Swiss, Pepper Jack, Monterey Jack, provolone, Maytag Bleu or even goat cheese, which is called chevre.
Sauces
Good burger toppings can include barbecue sauce, homemade guacamole, chili, salsa, mayonnaise, hollandaise sauce or chipotle cream cheese.
Add some variety
Sauteed mushrooms are always great. So are sauteed green and red peppers, or sauteed onions in a burgundy wine reduction. For a little heat, add a few jalapeño peppers.
There's strips of bacon, of course, or slices of grilled ham. Or grilled pineapple.
Burgers topped with fried eggs are increasingly popular. They're best when fried over-medium or over-hard, so the egg doesn't run all over the burger.
Copyright 2018 The Lawrence Journal-World. All rights reserved. This material may not be published, broadcast, rewritten or redistributed. We strive to uphold our values for every story published.