Go ahead. Light the candles and celebrate hamburger's 100th birthday.
There's no harm in it.
Food historians may dismiss any one city as the birthplace (or one person as the creator), but the folksy tale that pinpoints the 1904 St. Louis World's Fair has its appeal.
Imagine the setting at the fair as Fletcher Davis of Athens, Texas, set up his burger stand. It was across from an American Indian exhibit that featured captured Apache chief Geronimo, who was offering his autograph for a dime. Fair-goers clad in the fashion of the day (dark suits and matching bowlers for gentlemen, long-flowing Victorian skirts and wide-brimmed hats for ladies) stopped to savor the sizzle. Richly browned ground-beef patties tucked into buns could be enjoyed by all, the white-gloved rich and the down-home folks alike.
More than 20 million people visited the seven-month event, so if nothing else, we can assume that the exposure increased the hamburger's popularity. And whether its origin was with Old Dave (as some accounts dub Davis) or burger pioneers in other cities, few squabble about the hamburger's place as the ultimate American culinary icon.
"Americans associate hamburgers with good times," says Rebecca Bent, author of "Burgers: Fifty Recipes Celebrating an American Classic" (Clarkson Potter, $16.95). "With burgers, you get to eat it with your hands. ... That's satisfying, and kind of primal."
Primal, but not plain. Almost from the beginning, Americans have tinkered with the simple bun-meets-ground-beef formula. And in the past few years, those variations on a hamburger theme have taken a hoity-toity turn. Celebrity chefs from coast to coast have granted "gourmet burgers" a prominent place on their menus.
Roy Yamaguchi, chef-owner of the original Roy's Restaurant in Hawaii, adds shiitake mushrooms and panko (Japanese bread crumbs) to his Asian-fusion mixture.
Chef-owner Judy Rodgers of the Zuni Cafe in San Francisco serves her burgers perched on a rosemary-dotted focaccia bun smeared with aioli and garnished with oak-leaf lettuce and zucchini pickles.
New York chef Daniel Boulud tops his oh-so-popular burgers with sauteed foie gras (and truffles when they are in season) at his DB Bistro in New York City.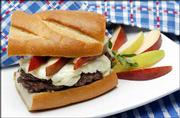 Modifications seem endless, but who thought chocolate could ever play a part in the fun?
"Powdered hot chocolate mix, brown sugar and a pinch of chili powder is a favorite burger-coating method," says cookbook author Bent. "You can't fry them indoors, you have to grill them outside, because the brown sugar will burn in a flat pan. There's just enough chocolate to get an earthy flavor. Everyone is pleasantly surprised."
Bent also touts the butter burger, a juicy treasure made by pressing two patties around a tablespoon of butter before it's cooked.
The butter can be flavored with fresh herbs, roast garlic or shredded sharp Wisconsin cheddar cheese.
Delicious, but what about gourmet burgers that, well, aren't beefy?
Napa Valley author and cooking teacher Hugh Carpenter recently zigzagged the country conducting a series of gourmet burger classes. He says his goal was to teach students how to think out of the box, to go beyond burger basics. That included experimenting with protein sources other than beef, as well as using bread other than the typical squishy buns.
His salmon burgers, enriched with finely minced fresh ginger, Asian chili sauce and orange zest are topped with papaya slices and served on made-from-scratch buns.
Mushroom burgers, made with a combination of fresh mushrooms, goat cheese, onion and fresh herbs, are served in pita-bread pockets.
Luscious bread, succulent filling and countless toppings -- no doubt upscale burgers, with or without the beef, are perfect fare for the summer.
Hamburgers have come a long way from their humble beginnings. Here's a look at their history:¢ 1891 -- Otto Kuasw, a cook in Hamburg, Germany, sells thin patties of beef sausage topped with a fried egg and served between two slices of bread.¢ 1895 -- Fifteen-year-old Charles Nagreen, of Seymour, Wis., selling meatballs at a county fair, flattens his products and puts them between slices of bread for easier eating while walking. Seymour is now home to the Hamburger Hall of Fame.¢ 1900 -- Louis Lassen, original owner of Louis' Lunch in New Haven, Conn., puts a beef patty on two slices of white bread. The restaurant now claims to be the original home of the hamburger.¢ 1904 -- At the St. Louis World's Fair, Fletcher Davis, of Athens, Texas, sets up a hamburger stand. The fair is widely credited with being the birthplace of the hamburger.¢ 1921 -- The first hamburger chain, White Castle restaurant, begins in Wichita.¢ 1955 -- Ray Kroc opens the first McDonald's hamburger restaurant in Des Plaines, Ill., in partnership with brothers Dick and Mac McDonald, San Bernardino.¢ 1970s -- In-N-Out Burger introduces the protein-style burger, wrapped in lettuce leaves instead of a hamburger bun. Other fast-food restaurants begin to copy this trend in 2003 with the rising popularity of low-carb diets.¢ 1985 -- Chef Paul Wenner invents a veggie burger for use in his restaurant in Oregon and sells it under the brand name Gardenburger. By 1995, 100 million Gardenburgers had been sold.¢ 2001 -- The world record for largest hamburger is established by the city of Seymour, Wis., which makes an 8,266-pound sandwich.¢ 2002 -- Daniel Boulud tops burgers with foie gras and puts them on the menu of his New York City restaurant DB Bistro. Later, fresh black truffles are added. The burger costs $27. Boulud now serves a $99 version.
Copyright 2018 The Lawrence Journal-World. All rights reserved. This material may not be published, broadcast, rewritten or redistributed. We strive to uphold our values for every story published.