Helen White recently returned from Taipei, Taiwan, where she was an intern at the National Palace Museum as a translator of Chinese to English. The museum is renowned for its 650,000 pieces from the collection of the Ch'ing court. The artifacts were collected until 1911, over a period of 1,000 years, covering the Sung, Yüan, Ming and Ch'ing dynasties. The collection was moved to Taiwan from mainland China in 1949 by Nationalist leader Chiang Kai-shek, whose government was under pressure from the communists. White, of Lawrence, will attend Yale University this fall in pursuit of a master's degree in East Asian studies.
Q: How significant is the collection of Chinese artifacts at the National Palace Museum?
A: I would say that to a certain extent, owning this collection represents Chinese tradition and whoever possesses this collection is kind of asserting a type of ownership of Chinese culture or traditional culture. I don't want to say that 100 percent, but you could look at it that way. You could say the owner of this collection owns a piece of Chinese traditional culture.
Q: If a person from communist mainland China wanted this collection back would they be wanting it back in part because of the social and cultural aspects of it and the power that it inherently possesses?
A: This art is not only very valuable monetary wise -- so many of these pieces are hundreds of thousands of U.S. dollars, and so of course you'd want it for that reason -- but I believe a lot of Chinese people on the mainland think these were created in mainland China and they were kept (there) for thousands of years to begin with, their rightful home is in mainland China. And I think people living in Taiwan would argue that if (they) hadn't taken (the art) it might have been destroyed by the earlier communist leaders like with the cultural revolution in the 1960s.
Q: What is the cultural significance of the collection?
A: You can think of it as a family heirloom; once it's passed down to a new generation, the new generation adds another meaning to it or they look at it a different way and say, "OK, this is significant, this was significant to my ancestors in this way, but now ... that I exist with it, (the art) adds new significance to my life and the people around it." How do Americans look at this art, why should Americans look at this art, why should Kansans look at this art? It's interesting.
Q: What have you discovered for yourself?
A: That there are a lot of similarities and a lot of differences; trying to understand why people would want a bronze ritual vessel. Why do Jayhawkers need to have ... John Brown Jayhawk? Why is that significant? Why do we feel the need to put up Jayhawks around the town? It's the same (reason) why Chinese people feel the need to have these pieces of art out to remind them of who they are, to remind them of who their ancestors were. I mean just because the art's different doesn't mean that the meaning isn't similar.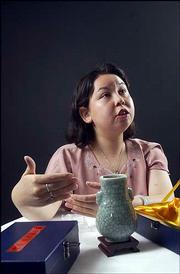 Q: So you found something universal.
A: Why should people, not just Chinese people, study this art? There are over 1 billion people in the world today who at least speak Chinese, and that's going to affect not just China but people in the international community. To understand these people you have to understand a little bit about their culture and ... I think you can get a better understanding by looking at their art and how they choose to represent themselves and what was significant for them in their history.
Q: What can your experience at the Palace Museum teach us?
A: Well, the world is getting smaller and smaller every day and truthfully you can't be an isolated country; you can't be an isolated culture. There are a lot of exchanges going on without us even knowing everyday. You go into a grocery store, and you just bought something from Myanmar. I feel to understand the community ... you should try to expand your horizon to different cultures.
Family: Single.Age: 23. She was born Feb. 14, 1981, in Lawrence.Education: 1999 graduate of Lawrence High School; 2003 graduate of Wellesley College in Wellesley, Mass.Favorite food: Carbohydrates.Favorite films: "To Live," directed by Zhang Yi Mou, and "The Godfather, Part I."Favorite books: "The Kitchen God's Wife," "One Hundred Years of Solitude," "The Power of One" and "The Adventures of Huckleberry Finn."Most inspiring people: Her mother, Lucy White, and her grandmothers, Helen Elaine White and Ying-mei Peng.Grandest hope: "That I can always return to Lawrence."Favorite place in Lawrence: Her parents' home.Question or comment to the whole community: Lawrence was a great place to grow up as a kid.This is the first in a new series featuring residents from the Lawrence area. If you know someone who would make an interesting feature, contact Greg Hurd at 832-6372 or ghurd@sunflowerbroadband.com.
Copyright 2018 The Lawrence Journal-World. All rights reserved. This material may not be published, broadcast, rewritten or redistributed. We strive to uphold our values for every story published.