Topeka — Out-of-state groups with anti-tax, anti-immigration and anti-gay messages are flooding Kansas to put down what they see as an insurrection in a traditionally Republican state.
"The Republican Party needs to be reoriented in Kansas," said Stephen Moore, head of the Washington, D.C.,-based anti-tax organization called Club for Growth. "There is a civil war in the party, and we want to make sure the right side wins."
Last week, the Club for Growth announced it was setting up a chapter in Kansas.
Earlier this month, another Washington, D.C., group that advocates against taxes, Americans for Prosperity, opened a local chapter after having spent more than $100,000 on an anti-tax advertising campaign aimed at the Legislature.
In addition, the state of Kansas was hit last week with a federal lawsuit from the Washington, D.C.,-based Federation for American Immigration Reform, a group that seeks to severely cut immigration.
National agendas?
During the legislative session this spring, the nonpartisan National Taxpayers Union, located just outside D.C., purchased radio ads in Kansas comparing Kansas lawmakers who voted for taxes to increase school funding with U.S. Sen. Edward M. "Ted" Kennedy, D-Mass.
The out-of-state scrutiny of the Legislature continued when several non-Kansas religious groups bombarded lawmakers with e-mail and threats of political retribution after state lawmakers voted against a constitutional amendment banning same-sex marriages.
Are Kansas politics getting swept up in national agendas?
State Rep. William Kassebaum, a Republican from Burdick who has become a prime target of the out-of-state groups, said he hoped not.
"They are pouring a lot of money on blitz advertising," Kassebaum said. "I would hope people are not persuaded by that."
Supporting candidates
Kassebaum, son of former U.S. Sen. Nancy Kassebaum Baker and grandson of former Kansas Gov. Alf Landon, said he grew up in a "progressive" Republican Party.
"The Republican Party I learned about in Kansas was one that tried to provide answers to problems," Kassebaum said.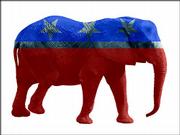 With schools begging for money and a court calling on the Legislature to increase funding for education, Kassebaum proposed a tax increase for schools that eventually failed. Now he faces a tough challenge in the Aug. 3 Republican Party primary from Sheri Weber, whom he defeated two years earlier.
The Club for Growth said it planned to spend $100,000 to help Weber, state Sen. Susan Wagle, a Republican from Wichita who is seen as a rising star among conservative groups, and another staunchly anti-tax Republican legislator in west Kansas.
Moore, the president of the Club for Growth, said if the group could help defeat Kassebaum "we can start to impose some discipline in the Republican Party. This is crazy thinking that states can tax their way to prosperity," he said.
Help welcomed
Kassebaum said anti-tax rhetoric was appealing, but that Kansas needed to pay for services that moderates and conservatives alike wanted to see maintained.
"At heart we are still a progressive state and not just relying on bumper-sticker political slogans," he said.
But Karl Peterjohn, director of the Kansas Taxpayer Network, which has been fighting against tax increases since the early 1990s, said he was glad the new groups had arrived in Kansas.
Their presence, he said, would help counter the numerous special-interest lobbying groups that seek increased spending.
"We were the first kid on the block, but we welcome the company. At our age, my colleague and I feel like Fess Parker and Buddy Ebsen when we walk into the Statehouse," Peterjohn said, referring to actors who portrayed aging gunslingers in television programs.
Why Kansas?
Bob Beatty, a political-science professor at Washburn University, said the perspective of anti-tax groups made it sensible to camp out in Kansas.
Part of the political culture in Kansas already is anti-tax, he said.
"It's a way to start a grass-roots movement, so you start where it is easiest," he said.
As the groups help defeat certain candidates and elect others, they gain notoriety and political influence, he said. But, he said, some voters might be turned off by the groups because they don't like outsiders coming in "and telling them how to run their state."
Moore said the Club for Growth's Kansas chapter would be run by Kansans and money used by the group would be raised locally.
"I don't know a lot about Kansas. I do know that this is a state where the pro-growth wing has been at war with the big government wing," Moore said. He predicted that in five years "there will be no pro-tax Republicans left in Kansas."
Copyright 2018 The Lawrence Journal-World. All rights reserved. This material may not be published, broadcast, rewritten or redistributed. We strive to uphold our values for every story published.