Ed Shinogee walked along Massachusetts Street, then suddenly stopped to bend down and pick up a discarded cigarette butt.
"I try to stay downtown," the 40-year-old homeless man said one evening last week. "I walk the streets and bum cigarettes off people or pick up cigarette butts."
Shinogee is homeless despite the fact that last year, nearly 20 years after leaving the U.S. Army, he received approval for 100 percent disability payments through the U.S. Department of Veterans Affairs.
The reason: his disability.
According to Darla Lilley, Shinogee's Lawrence attorney, he is entitled to monthly payments dating back about three years, including annual cost-of-living increases. By her rough estimates, that means Shinogee should have more than $50,000 waiting for him in a VA account.
But Shinogee can't get access to the money. His disability was diagnosed by VA doctors as a "psychosis manifested as schizophrenia." Therefore, the VA questions whether he is competent to handle his finances.
'This is ridiculous'
A few weeks ago, Shinogee was examined by a doctor at the Dwight D. Eisenhower Veterans Affairs Medical Center in Leavenworth to determine whether he was competent to handle money. The results aren't known.
If Shinogee is found incompetent, the VA will appoint a fiduciary to handle his finances and pass the money to him as needed.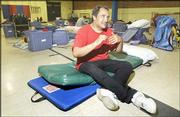 But that process could take months, according to Lilley, who has handled many cases for veterans. In the meantime, the VA has refused to appoint an emergency fiduciary so Shinogee can use his money now to find a place to live.
"This is ridiculous," Lilley said. "It's ludicrous that somebody who's got that much money is walking the streets."
Rhonda Edens, director of public affairs and voluntary services with the VA regional office in Wichita, said the process would go more quickly than Lilley asserted.
Competency process
Edens said she couldn't talk about specific cases, but described how the competency process worked:
When results of the exam are known, the VA offers a veteran "due process." That means if he is found incompetent, the decision can be appealed. That takes about 60 days, Edens said. The process can be expedited if the veteran wants to waive due process and allow a fiduciary to be appointed.
Then, someone from the VA would conduct a field exam, which includes an assessment of a veteran's financial condition, and find a fiduciary to work with him, Edens said. The process should take about 30 days, she said.
Meanwhile, there were other steps to get a veteran off the streets, she said. For example, he could check with a homeless coordinator at any nearby VA hospital.
"There is never a reason for a veteran to be out on the streets," Edens said.
But there is no homeless coordinator at the Leavenworth VA. Instead, there is a person who works with local social service agencies to provide assistance to homeless veterans, said Denise Butler, admissions clerk with the medical center.
There also is the Reveille House in Leavenworth, a halfway house for homeless veterans. In Lawrence, she suggested calling the Kansas Veterans Commission.
Shinogee's story
That office, at 745 Vt., is a state-backed organization that would give a homeless veteran a booklet listing local services that offer help with a myriad of problems, said Joe Pellagrini, the office's veterans service representative. Included in the book are the Salvation Army, 946 N.H., and the Community Drop In Center, 214 W. 10th St., both of which assist people who are homeless. There are no 24-hour homeless shelters in Lawrence.
Shinogee sought out Lilley about three years ago, seeking help obtaining veterans disability funds. Shinogee was in the Army a short time when he "got into trouble" and received an "other-than-honorable discharge" in the mid-1980s, Lilley said. She could not be specific about the nature of the trouble.
Within a short time Shinogee became psychotic, Lilley said. But the military maintained Shinogee was sane when he got in trouble while in the Army and the VA denied his claims on that basis.
But Lilley said she checked with VA doctors who examined Shinogee since he left the military, and they said he was mentally ill at the time of the infraction. His mental illness built up, they told her, over a period of time beginning with his trouble in the Army.
"You don't just suddenly wake up and be psychotic, in most cases," Lilley said.
So last year, the Board of Veterans Appeals in Washington, D.C., agreed and approved disability payments for Shinogee, with monthly back pay to September, 2001.
But because of the disability, the VA won't disburse the funds.
What he'll do
Lilley said it was clear Shinogee's mental condition was a factor in his inability over 20 years to obtain VA funds.
"You were dealing with a severely disabled person," she said. "He did not know what kind of evidence he needed to submit to the VA."
Shinogee hasn't always been homeless, but it isn't clear where he has been since leaving the Army. His name sometimes shows up on the Douglas County Jail log for various misdemeanors. It is hard to get him to talk about those matters.
Shinogee said he was tormented by thoughts and visions of terrorist attacks and people running and falling "into the gates of hell." He talks about seeing visions of God and Jesus and about riding the tail of Haley's Comet.
Shinogee also said he suffered pain in his neck and the back of his head stemming from a car accident in the 1980s.
Shinogee, who sleeps nights at the Salvation Army shelter, knows what he wants to do with his disability money once he gets it.
"I want to buy a house and stay in Lawrence," he said. "I want to find the best doctor I can -- a neurologist -- to take pictures of my brain and to operate on my thalamus."
Copyright 2018 The Lawrence Journal-World. All rights reserved. This material may not be published, broadcast, rewritten or redistributed. We strive to uphold our values for every story published.