Heavy rains caused a lot of headaches in Douglas County on Saturday morning, but no life-threatening accidents were reported.
By about 12:45 p.m. Saturday, Lawrence Municipal Airport had recorded about 2.44 inches of rain since midnight. By 1:30 p.m., the rain gauge at the 6News studio in downtown Lawrence had recorded 3.59 inches of rain since midnight.
While weather forecasts called for rain, heavy flooding had not been predicted.
6News meteorologist Jennifer Schack said heavy rainfall had been in the forecast for areas south of Lawrence, but the system shifted north in the morning.
"We were calling for light rain, but the flood warnings surprised me," Schack said.
Steve Kays, meteorologist at the National Weather service in Topeka, said Saturday's storm was more typical of a tropical situation where the storm spins around and stays in the same area.
"This is more like something you would see on the Gulf Coast where it rains three, four or five inches," Kays said.
He said the storm was also unusual because it was more like a storm Kansas would see in the winter that would produce a lot of snow.
Kays said the rain would gradually be moving out of the area this morning and there would be several dry, cool days before another chance for rain late this week.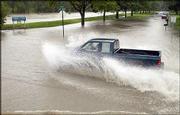 The storm led to several street closures in Lawrence. Police closed the intersections of 28th Street and Winterbrook Drive, Winterbrook Drive and Jordan Lane, Naismith Drive and 23rd Street and Ousdahl Road and 23rd Street, a Douglas County dispatcher said.
Near Midland Junction on U.S. Highway 24-59, motorists continued to drive through water that was over the road. The stream was not considered hazardous and a flagger was out slowing vehicles down, the dispatcher said.
At 9:15 a.m., a 1996 Dodge Avenger went off the road in a westbound lane of Interstate Highway 70 near the Lecompton interchange, rolled and struck a tree and an embankment. Howard Walter, 44, Lawrence, was transported to Lawrence Memorial Hospital, according to a Kansas Turnpike Authority dispatcher.
Officials at LMH said Walter had been transferred to a Kansas City-area hospital. His condition was not available Saturday evening.
Earlier in the morning, Douglas County emergency officers responded to a call at Douglas County Lake when a women called and said a tent had been blown into the lake and people might be drowning.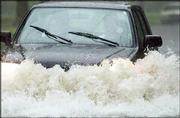 A Douglas County dispatcher said it was a false call and that all the people in the tent had been accounted for.
The heavy rains did not spoil activities at the Douglas County 4-H Fairgrounds, 21st and Harper streets.
According to the fairgrounds caretaker, Kerry Wheeler, the parking lot was packed for the 4-H Horse Show, which started at 9 a.m. The show was inside, but several exhibitors were setting up their livestock in preparation for activities later in the week, he said.
"The show must go on," Wheeler said.
-- Staff writer Lindsay Hanson and World online editor Dave Toplikar contributed to this report.
Copyright 2017 The Lawrence Journal-World. All rights reserved. This material may not be published, broadcast, rewritten or redistributed. We strive to uphold our values for every story published.