Mekece, Turkey — The government Friday dismissed opposition calls for resignations over a derailment of a showcase express train that killed 37 people and injured 81 in one of Turkey's worst rail disasters.
Thursday's crash came only weeks after Prime Minister Recep Tayyip Erdogan inaugurated the train despite widely reported warnings by an engineer that the aging tracks couldn't handle it.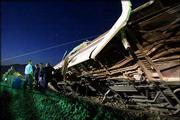 At least four cars overturned near the rural village of Mekece, about halfway between Istanbul to Ankara.
Officials have ruled out sabotage. Transport Minister Binali Yildirim said authorities were still investigating, but he added that the train had been traveling 23 mph over the speed limit of 50 mph. He said, however, that it would be wrong to attribute the crash to speed alone.
The train's conductor and his assistant were detained Friday for questioning. Opposition leader Deniz Baykal suggested the men were being made scapegoats.
"In any other country, a government that acts so irresponsibly would have long resigned," Baykal said. "It is noteworthy that the conductors have been detained while those responsible are walking around. They are trying to put the blame on the conductors."
Ismail Gurses, a lawyer for the two conductors, said his clients "agree that the express train was put into operation without the necessary infrastructure arrangements."
Erdogan dismissed calls for the resignation of Yildirim and scolded journalists who asked if Yildirim would resign.
Copyright 2018 The Associated Press. All rights reserved. This material may not be published, broadcast, rewritten or redistributed. We strive to uphold our values for every story published.